The PIXMA MX435 All-in-One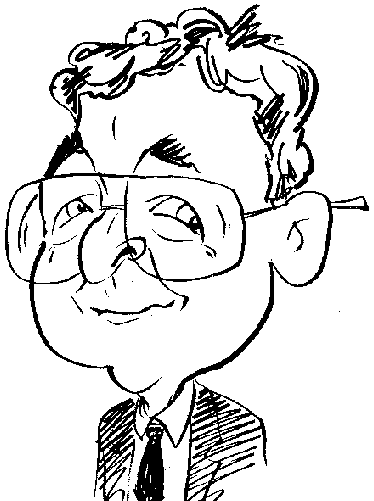 Review controls
It has been a while since I last took a look at a Canon printer. Checking my records revealed that this period covered at least 15 months. Now the arrival of the Canon PIXMA MX-435 Office All-in-One model that period has been brought to a close. This unit brings together scan, print, copy and fax capability plus ADF (Automatic Document Feeder) and wireless connectivity all at a price well under £100.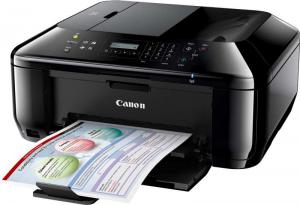 click image to enlarge
The MX-435 adopts a stylish box-like appearance with rounded corners and a top that slops upwards and inwards so as to create the platform which houses the ADF module. Like many other manufacturers, Canon has gone with a lacquered black colour scheme. Unlike many products from other manufacturers, I am pleased to report that the Canon All-in-One finish proves to be highly resistant to my attempts to leave my finger smears over its surface. Just what is the secret behind this attractive, and often called for, feature?
With dimensions of 458 x 385 x 200mm (W x D x H), the MX 435 follows the standard layered design concept with the ADF on top of the A4 flatbed scanner which sits on top of the inkjet printer. The MX-435's control panel is situated on the sloping front of the scanner lid. Taking up a central position is a small LCD window providing feedback. Arranged below this window are buttons for back, left, right and OK.
To the left of the LCD are buttons for on/off, menu, scan, copy, fax and setup plus a light to indicate when fax activity is taking place. Over on the right is the alphanumeric telephonic pad with additional buttons for black and colour printing plus stop and a light to indicate when an error occurs.
A drop-down panel at the front of the unit acts as the main paper input tray with a capacity of 100 sheets and also reveals a second drop-down flap which is the paper output tray. The ADF unit on top of the box can handle 30 pages. The front of the unit also has a PictBridge connection on the left and a hidden compartment for inserting the unit's ink cartridges. The MX-435 is a two-cartridge model (colour and black) using Canon's FINE offering which integrates the print head and ink tank. While I appreciate the easy access of the front-mounted cartridge compartment, I prefer the Brother implementation of this feature.
As mentioned earlier, the MX-435 has wireless connectivity with support for WPS automatic connection. You also have the option for USB connectivity. The port for USB connection is at the rear of the box where you will also find sockets for main power and a telephone link to provide fax capability. A removable panel at the rear of the unit will give access in the case of a paper jam but I was unable to test this feature as no jams occurred during the review process.
Whether you opt for wireless or USB connectivity, you will need to start the installation of the provided software. You will be led through your selected connection method before the various software items you have tagged for inclusion are installed. Included among the software items are an on-screen-manual, MP Navigator EX, Speed Dial Utility, Easy-PhotoPrint EX, Solution Menu Ex and Easy-WebPrint EX. There is also an option to join an Extended Survey program to send Canon details regarding the use of the MX-435.
Canon has rated the print capability of this product at 9.7ppm for black, 5.5ppm for colour and 4.3ppm with ADF copy. While these figures are the result of industry-standard procedures, I decide to also run my own tests based on a 102-word document first in black and then with some colour including a small image using the three available print modes of Fast, Standard and High. The results are shown in the table below. It was noticeable that the paper output tray, even with the extended flap pulled out, was too short to stop A4 documents being scattered over the floor. A five-page document took 80 seconds using the ADF feature.
Canon PIXMA MX-435

| | Fast | Standard | High |
| --- | --- | --- | --- |
| Monochrome | 18ppm | 16ppm | 6ppm |
| Colour | 10ppm | 7ppm | 2ppm |
All the print modes produced excellent quality although you might not want to use Fast mode for really important documents.
Combining the scanner (with its 4800 x 1200 dpi resolution) and print functionality to produce a photocopy required 39 seconds to copy a full colour A4 document. A 10 x 15cm photo print took a rather disappointing 42 seconds while a full A4 print required a far more satisfactory time of 119 seconds. In both cases the image quality was good. The photo print tests used the Easy-PhotoPrint EX utility.
Canon originally launched this produce with a price of £79.99. However a quick search of the Internet revealed that Amazon.co.uk has currently listed the MX435 at £59.99 which is a great price for this product. Replacement cartridges are priced at £17.95 for black and £20.95 for colour. A bundle package is priced at £27.95.
http://www.canon.co.uk/For_Home/Product_Finder/Multifunctionals/Inkjet/PIXMA_MX435/index.aspx?specs=1