Brother All In One DCP J140W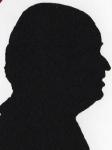 Review controls
A small black unit that can print, copy and scan. If it does not suit the colour scheme then it can sit in a cupboard or behind a sofa as not only can you use it with USB but also by connection to a wireless router if you wish.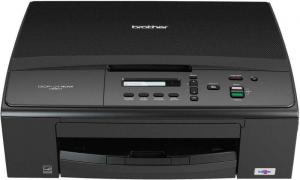 click image to enlarge
It is 39x36x15cm, if you allow another 5cm to the last figure the height then this is all the space that this unit requires.
There is a paper input tray (printing stock face down) at the base and printed output is delivered face up just above it. The four printer cartridges are input behind a door just to the right of the paper trays. The front edge slopes down and has fourteen buttons and a small single line display (black on grey) the only other light is an orange '!' mark just to its right to highlight problems. Things like paper jams and most likely out of paper warnings.
The power lead enters at the back of the left side. USB if you use it enters via an elongated path at the back left.
Printing the nonsensical 200 word document in 'fast' mode will produce very grey output and make the unit liable to get paper jams as it really spits out the output. Still as this is how speeds are calculated I got 18PPM for this test. Printing a more normal 1500 word document (spread over four pages) came in at close to 15PPM.
I would suggest printing in 'Normal' mode this does not snatch the paper and the output is black but output is around half the speed of 'Fast'.
Printing borderless images on photo paper always produces a warning that printing in this way will take a long time. Paper feeding of this thicker paper stock has a habit of being difficult with Brother units and A4 failed to print. I did manage to print some A5 15x10 sheets but at 123seconds for a single sheet it is certainly slow.
Scanning works well either from within the software supplied or by acquiring from whatever software you like. All the options you expect are available and the results when viewed on the PC are perfectly acceptable for most uses.
I have great difficulty in accepting the claimed speeds for printing and scanning but for copying the claimed 'up to 20CPM for colour' and up to '22CPM for monochrome' are in the realms of fantasy. While single copies of course take a lot longer as it has to scan and process even when producing an exact image copy and a lot more work is involved for reduction and enlargement as well as when you wish to change to image to any extent.
Just like printing I ignore the first and last copy and take the time for the other copies. I never got anywhere near the claims even when a very simple page with just a few lines of text was copied. I would love to see how their tests are done.
Should you print a little, copy a little and scan a few occasional pages then the cost of this unit may make it something to consider. The cartridges are slightly larger than some and having four separate cartridges means that if you print images with a lot of blue that is the only cartridge that you need to replace so a saving there.
Its small size is another advantage but the unit does tend to suffer from paper jams especially when you use a range of paper weights mixed together, this is one of the tests I also use. While jams are not normally hard to clear this is time consuming.
Doing my searches found the Brother DCP-J140W at a best price of £59.45 including delivery.
http://www.amazon.co.uk/gp/product/B008F4RXAI?ie=UTF8&tag=gadge0a-21&linkCode=as2&camp=1634
http://www.brother.co.uk/g3.cfm/s_page/215760/s_level/36230/s_product/DCPJ140WZU1