Canon Pixma MG6150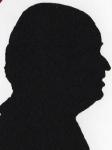 Review controls
This is a small All In One unit, it can print, scan and copy. For anyone needing to do all three then an All In One unit has the biggest advantage of – stating the oblivious – being a single unit, so only one power plug and one PC connection.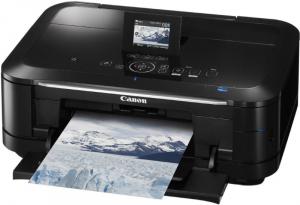 click image to enlarge
The Canon Pixma MG6150 measures 47x37x17.5cm, the last figure increases to 32cm when paper is loaded in the rear upright tray, for standard plain paper there is a small internal tray in the base of the unit, so unless you use letterhead or print on photo paper the initial figure is the space required with or course some space in the front for paper delivery.
Other things it can do that often get missed are the ability to print direct from cards, mobile phones and onto CD or DVD.
First the top of the unit that has the direct controls there is a TFT 6x4.5cm that by default lies flat, however it can be raised to near 90degrees to suit almost all viewing angles. There are a total of six touch buttons towards the front edge of the scanner lid however when the unit is in standby or off all but one will be near invisible. There is also the ubiquitous five position joystick. Further forward almost on the edge are two LED's for on and for wireless.
The power lead goes in back left and the USB lead back right just below the Ethernet insertion point. To the right of the front is a door behind which there are three card ports.
Both the bottom and back paper slots are stated to accept 150 pages, well I tried and failed, if they had claimed 100 pages I would have still thought it was ambitious. I tended to keep the bottom tray under 50 sheets. The back I inserted photo paper as required.
Talking of photo paper I printed both A4 images and four near 15x10cm images on a single sheet in 63 seconds, which given the excellent print quality I was more than pleased with. This is a six ink printer the normal three colours plus a grey and a black as well as a large capacity extra black ink to complete the six inks.
Printing my normal 200 word A4 page in 'Fast' (the unit can also print 'Standard' and 'Best') it printed at 16PPM and was crisp and sharp no greying but in this mode the paper is somewhat snatched which can increase the possibility of jamming, these are easy to clear but then you have to switch off and on again and a full check cycle is then implemented. The 1500 word document (spread over four pages) printed at just under 13PPM.
Copying done from the unit where you have a variety of options was 10 seconds per page in black and 20 seconds per page in colour.
Scanning to a program of your choice on the PC took around 12 seconds per page in black and 18 seconds in colour.
Canon has long had excellent software and for a novice user why look elsewhere, their Solution Menu will load at boot up if you let it. This can take you through most tasks and still allow you to make choices if you wish.
There Photo Print module was one of the first to allow you to print four near 15x10cm images on an A4 page and is so easy to use.
This is a lovely sleek black unit (however unless you are a Goff it is unlikely to pass the lounge police) so the ability to use Ethernet or Wireless could make it more acceptable.
Doing my Internet searches found the Canon Pixma MG6150 at £139.99 with free delivery.
http://www.amazon.co.uk/gp/product/B00400OK2K?ie=UTF8&tag=gadge0a-21&linkCode=as2&camp=1634
http://www.canon.co.uk/For_Home/Product_Finder/Multifunctionals/Inkjet/PIXMA_MG6150/