A3 Multifunction from Brother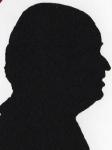 Review controls
Most people have the idea that A3 machines are big, this one is not, this is not just a printer but a multi function unit as it scans, copies, faxes and prints, also it can also print photos direct from a card or a memory stick.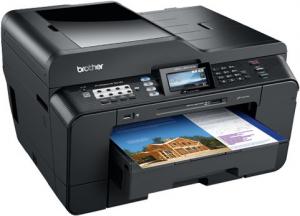 click image to enlarge
It is 52x48x31cm when you have A4 paper in both trays, the top tray can also accommodate A3 paper and it expands to accept this making the depth 58cm, another 10cm only. Please note this machine prints up to A3 and not A3+.
Everything can be installed from optical media, two discs are supplied one with the manuals and the other with PaperPort 12 and other software but it still downloads other items from the web. Total install time was 12 minutes including a reboot and it took 1.924GB of hard disc space, there are other options to install less software.
The power lead enters back of the left side as does the Ethernet cable and telephone lead. Should you use USB then this will emerge back of the right side but it inserted inside the machine something that Brother have done for a while. Of course this unit can also connect using Wireless, as it has Fax it is not really designed to be turned off, but it does have an on/off button one of 35 buttons spread either side of the 8.5x3.7 cm display.
While of course you can use any software of your choice. Apart from Microsoft Word that I used for printing I used only that supplied by Brother their Creative Centre and the PaperPort software they provided for OCR purposes.
While printing A3 pages on photo paper is very nice and the printing time at 100 seconds for a full borderless image is also very rapid. Please remember this is an inkjet printer and printing a lot of these will be expensive. It can also print Duplex but even though the A3 feature will be the headline most UK printing is still A4. An A4 image on photo paper printed quite respectably at only 50 seconds using the Brother software. This is also the same speed for multiple images on a single sheet, there is always around 10-15 seconds thinking time before printing starts, however this did not seem to change much however complex the print.
I got a very acceptable 20PPM in 'fast' mode, this was only slightly grey and perfectly acceptable for a file copy this was the nonsensical 200 word document that is just about the closest I can get to the new ISO standard that no one seems keen to send me a copy of. For a more normal document 1500 words spread over four pages this printed at a quite impressive 17PPM also in 'fast' mode. Normal mode was blacker but also slower.
My opinion on Fax is that no one wants it today but since manufacturers still produce it somebody somewhere must. It works and if out of paper it will store the documents in memory until you refill the cassettes.
Copying strangely can only be done from the unit as most other software seems to allow you to do so from the PC. A full colour A4 copy was produced in 15 seconds; you can enlarge/reduce and change a few other things from the display. Scanning was just slightly quicker at 12seconds for an A4 image to a saved file. If you want OCR this takes slightly longer but still well under 30 seconds and it is then delivered into the Word Processor of your choice.
It has both a multi card port and a USB port on the front as well as a dedicated photo print module however the display can show images but only in a thumbnail form it might be better to print a thumbnail page (four or five to a line) to select which images you wish to print if you have a lot or make the selections from the PC.
Doing my Internet searches found the Brother MFC-J6910DW at a best price of £366.46 with free delivery.
http://www.amazon.co.uk/gp/product/B004G6TH44?ie=UTF8&tag=gadge0a-21&linkCode=as2&camp=1634
http://www.brother.co.uk/g3.cfm/s_page/215760/s_level/225450/s_product/MFCJ6910DWZU1