HP OfficeJet Pro 8500A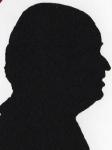 This is quite a large unit that is certainly a multi function unit. My interest was the claim made with that it 'cost 50% less per page than colour lasers'. I am sure we all know normally a mono laser is far more frugal than an inkjet.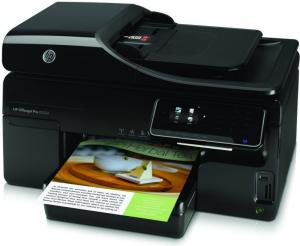 click image to enlarge
The HP OfficeJet Pro 8500A is big and black measuring 50x42x30cm and the middle figure. the depth, is only to the front of the paper tray a shelf to catch printed pages can extend up to another 18cm.
All the connections are in a line at the back on the right hand edge. Not only does this have a flatbed but also a document feeder. It also has a duplex printing unit that has to be fitted as otherwise the paper path is not complete.
The claim for this inkjet printer was it prints for 50% less per page than a colour laser and that is why I looked at it. In an office it could be placed out of the way as printing can be Ethernet or Wireless as well as USB.
Printing in draft mode (the fastest and noisiest) the 200 word document came in at 24PPM and the more normal 1500 word document spread over four pages printed only just a tad slower at 22PPM. These figures are accurate assuming you start – as manufacturer's tests do – after page 1 and end just before the last page is printed. For some reason the printed always seemed to stumble while printing the last page (at least a couple of seconds) and the time from pressing print to the first page being produced was always between 15 and 25 seconds.
While printing in draft mode still produces a nice sharp black image it is noisy and most might like a slightly slower speed (normal) as you could then carry on a conversation and paper is less spat out and more pushed out.
Duplex printing was not that slower and unlike a lot of other such units the back seems to line up correctly with the front. All the controls are on the 9.5x5.5cm touchscreen that can lift forward by up to 45degrees so reading it should be easy from any angle.
Photo Printing was rather good on photo paper good depth, good colour and the produced image only the tiniest bit tacky on the back edge. A full A4 image took the same time as four near 15x10cm images on a single sheet at 78seconds and the printing was so quiet that you had to listen to hear the printer actually working. Printing in colour using a PDF of the London tube map (two pages) the first is the map and the second an index of all the station names with various colour symbols beside them, this printed in thirty seconds.
Copying can of course be done direct from the touchscreen on the unit and you have a full range of choices as to single of double sided, to increase or decrease the size etc. A single sided A4 image takes 30 seconds from pressing start while the same image in monochrome takes only 10seconds quite a difference. Quality was good.
Scanning again can be done direct from the machine but if you want output to go to the PC it needs to be connected. An 'everyday scan' takes 10seconds while an excellent OCR image (using I R I S) takes only 15seconds.
Good quality plain printing (rather noisy in draft mode) excellent image printing both on plain and photo paper. Copying quality was excellent if a little slow in colour and the choice of options for scanning all from the touchscreen is excellent. The one thing my test did not have time to prove was the cost claim, it's a four ink four cartridge offering and the three colour cartridges are a good size with the black being available at the same size (cheaper) or a double size for better economy.
Doing my Internet searches found the HP OfficeJet Pro 8500A at £185.14 including delivery from Amazon on the link below:
http://www.amazon.co.uk/gp/product/B003VYB70Y?ie=UTF8&tag=gadge0a-21&linkCode=as2&camp=1634
I found the HP OfficeJet Pro 8500A for $279.87 including delivery from Amazon on the link below:
http://www.amazon.com/gp/product/B003YT54PU?ie=UTF8&tag=gadge0a5-20&linkCode=as2&camp=1789
I found the HP OfficeJet Pro 8500A for €225,99 including free delivery from Amazon on the link below:
http://www.amazon.fr/gp/product/B003VYB70Y?ie=UTF8&tag=gadge04-21&linkCode=as2&camp=1642&creative=6746&creativeASIN=B003VYB70Y
http://h10010.www1.hp.com/wwpc/uk/en/ho/WF05a/18972-18972-238444-3328086-3328086-4083864.html