Epson AcuLaser M2000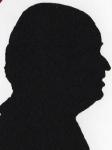 A mono laser is the often forgotten workhorse. One thing you always get from a laser is the stated print speed, in this case 28PPM, something all but never achieved from an inkjet printer.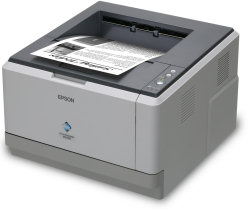 This is called a business mono laser -at this stage I was not concerned- but it is small and many home offices would benefit from it. It is 40x37x23cm with all leads inserted, assuming you use the built in paper tray you need no more space than this as pages are delivered face down on top of the unit. It does have a manual paper feed and this with paper loaded would increase the first figure the depth by 20cm. It is cream and two shades of grey so may possibly in some cases just pass the lounge police.
Whatever you ask it to print will do so -along as there is paper- 28 times a minute, this works with graphics as well as text. If you have never thought of a mono laser to print graphics think again as the right images look superb in mono.
There are four models, and you can get addional paper trays and should you need it extra memory. So you could have parallel and USB, or network and USB I was sent the latter but the installation is almost the same with you just selecting the connection method when asked. If you purchase extra paper trays that gives four combinations.
So a 'D' at the end gives you the parallel and USB model and 'DN' gives you USB and network. I choose to review it as USB so all my thoughts could apply to either.
Installation is straightforward and quick, you only have to insert the CD and follow the prompts. Unpacking the unit is not even time consuming and removing the various tape probably is the longest job. Unlike some other small lasers the paper tray is fully contained often they stick out the back by 4cm or so. The tray is stated to hold 250 sheets I certainly found this tight and although I did not get any paper jams I was happier with something like half this amount loaded.
There is a manual tray that is by loading paper face down in the area created by lowering the top of the front and extending a tray. This is stated to hold 50 sheets again far more than I would like, you would probably only use it for letterheads or special papers.
Back right is where the USB or network lead goes and back left for power lead. At the rear of the left side is an on/off rocker. On the top right side at the front are three buttons and six LED's but in practice the only time you need to go to the printer is when you turn it on, put paper in or collect printed output, so if you have a cupboard you could put it in there to satisfy the more fussy lounge police. Perhaps easier done using the network option unless your PC is near the cupboard.
The advanced properties box has lots of options including forcing it to print from the manual tray. However for 80% or more of my tests I adjusted nothing and left it on auto select and text and image printing. I tried the various settings but only to prove they did something. It can also print duplex.
Anyone who has a lot of text printing to do can churn out good quality sharp pages 28 times a minute. The first page out after an initial ten second warm up is six seconds and then 28 times a minute. Be it the same page or a huge database the one I use is over 180 pages long. There are two toner capacities 3,500 or 8,000 pages.
Doing my Internet searches found the Epson AcuLaser M2000D at a best price of £165 and the M2000DN at £253.33. Luckily I was sitting down when I found those prices. The unit comes with a starter 2000 page cartridge. Prices for replacement toners are £67.76 for 3000 sheet and £106.74 for the 8000 sheet.
Toner cartridge : http://www.cartcon.co.uk/index.php?cmd=viewcat&id=55869
http://www.epson.co.uk/products/laser_printers/AcuLaser_M2000.htm