Samsung Laser MFP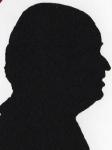 This is a mono laser (all in one) AIO product that is neat, compact and virtually silent. In fact when I first saw it I could not believe it was a AIO because it was so small.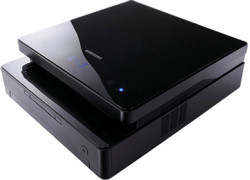 It is 39x32x15cm and that includes the slight protrusion at the back for the power lead. You will need a few centimetres of space above to lift the lid to place items on the flatbed. You need to allow space in front for pages to come out and also access to the small paper tray at the base.
When you first switch on there is no great whirring and churning noises, in fact the only way you know it's on is a blue light. When you ask it to print for the first time after switch on there is a short (around 40 seconds) warn up when you hear a faint noise, in standby it is totally silent.
When it prints, scans or copies it is also extremely quiet. Ideal for anyone as a home office item, as far as the lounge police go it is a no no as it's black but that to me is unimportant.
Unlike most units you attach the USB lead first before you install software. You will need to cancel the 'new hardware found' message. I found the install took around four minutes on a reasonably fast Windows XP system. I was 440MB of hard disc space down afterwards.
The Quick Install four side sheet is in twenty one languages so it relies mainly on pictures but really it is almost foolproof.
There is a button at the foot of the front to open the small paper store. The only other controls are to the right of the flatbed lid on the top these consist of a number of touch buttons that allow you to set reduction/enlargement number of copies and toner intensity. There are also touch buttons to clear and Scan to PC.
In use as a printer it of course prints at exactly 16PPM for the 200 word nonsensical letter or the 1500 document spread over four pages. Print quality is good this is main difference between a laser and an inkjet. The claimed print speed is the actual print speed. In fact should you print on Letter paper rather than A4 then you will get 17PPM.
As a scanner a page can be sent to the PC in 30 seconds even though the printer is mono the scanner is colour so this is a quite acceptable time.
For copying the PC needs not to be on or even connected. Obviously it only copies in monochrome but the greyscale for colour images is quite good. From pressing the copy button to the copy emerging is around 25 seconds. Less if you choose to reduce it. Remember this covers scanning and any reduction I think that is excellent and as stated all in near silence.
Of course there is OCR software and this works quite efficiently, give it a good quality image no blurs or paper folds and the accuracy will be excellent.
Another little software item is called Dr. Printer that remotely tries to solve any problems you may have.
Yes there are far faster lasers out there and also some colour units at not much more but they are not nearly as small or quiet as this unit and they certainly do not weigh 8.5 kilos.
Doing my Internet searches found the Samsung Laser MFP SCX4500 at a best price of £183.01 from the first link below.
http://www.komplett.co.uk/k/ki.aspx?sku=341502&cks=ASS&assoc=8070E5CC-28EB-433D-8345-6176BFE08D72
http://www.samsung.com/uk/consumer/detail/features.do?group=printsolutions&type=printsolutions&subtype=monomultifunctionproducts&model_cd=SCX-4500/XEU