Brother HL-4040CN Colour Laser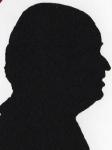 A colour laser printer is not necessarily a large offering, while it is course larger than an inkjet it will of course be a good deal heavier but full colour pages – even one offs – can take around 15 seconds.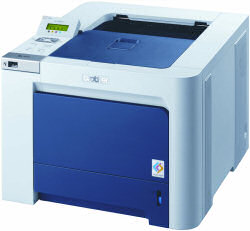 First the all important dimensions. The Brother HL-4040CN is 48cm deep with power plug inserted, 41cm wide and 30cm tall. It is close to 30kilos when the toners are inserted.
Some recent units state fast warm up or time to first page, no such luxury here it is at least 90 seconds before you get 'ready' from first switch on and then the first job will print quite slowly maybe only 6ppm but from then it is all systems go and colour or black/white is 20ppm. This is rare as the original four pass for colour meant that if colour was 5ppm you got 20ppm in black/white as it only needed one pass. Next the same time came in for colour of black/white with a range of units but at the slower speed. Here once it is warmed up text pages colour or black/white print at 20ppm.
Installation of the toners is easy as they just slot in you will spend longer extracting them from their bags than inserting them. If you are doing the job single handed I would suggest getting it in place (strong table required) before inserting the cartridges as that little extra makes it tougher to locate easily. Of course health and safety suggest two people to move it.
Unlike inkjets there is no 'draft' mode and for printing the norm is 600x600 there is a '2400dpi class' mode for that really special item.
From removal from the box to printing a test page after the software installation (around 75MB of hard disc space) was close to 20 minutes. I do not think I review enough lasers to gain any advantage over the first time installer as they are all different. The only advice I can give is have plenty of space around you and follow the Getting Started booklet and it should be easy.
I do not have a desk strong enough to accept another 30 kilos of weight so I installed it on the floor under my desk. I can see the LED display if it's green all should be okay if it's red then you have a problem beside the display is an orange LED that flashes when data is being received.
There are eight buttons just below the LED on the left side (I have just counted them) but I never used them apart from the initial setting of language and country during the installation.
Paper is inserted face down in a true 250 sheet tray and delivered face down on the top of the unit in a recessed space large enough to accommodate a good wad of pages.
This is either a USB2 or network printer the same installation with only the very end changing according to the type you choose. There is an on/off switch on the back of the right side. Some network printers do not have this but no doubt the growing clamour for the environment made sure that switching off was an option. Once you have stopped printing for a while it enters a mode that turns off the LED and enters a near hibernation mode and of course first print once out of this mode is slower.
Printing full colour A4 images (once fully warm) takes only fifteen seconds they do have a tiny (less than .5cm) border on all sides as it does not support borderless printing but the colours are true and while you should always be able to tell the difference between plain paper laser printing and photo paper inkjet printing you would need to look very closely when the inkjet prints on plain paper. With a decent inkjet taking around 150 seconds for a good print the 15 seconds on a laser has a place
Doing my Internet searches found the Brother HL4040CN at a best price of £323.12 including delivery (remember it weights 30 kilos) from the first link below.
http://www.printerland.co.uk/acatalog/Brother_HL_4040CN.html?source=pricegrabberpland#aBrotherHL%204040CN
http://www.brother.co.uk/g3.cfm/s_page/50670/s_level/31070/s_product/HL4040CNZU1