Canon iP5300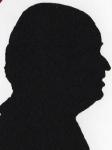 Review controls
This black box can – should it be required - occupy a very small space. However the quality of images and text printed are good, so if you have a only a small space this printer could fit it.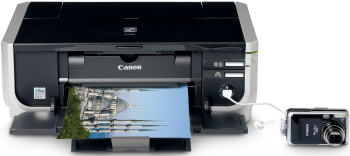 The Canon iP5300 is 44x30x12cm when closed however add another 22cm to the last figure when paper is in the vertical tray at the rear waiting to be used. I discovered the small footprint when moving some stuff around during a reorganisation and for most of the review it sat on the end of it's box and performed without any problems.
I am pleased to say that now Epson, HP and Canon all provide software that is a real joy to use and that using Windows Printer and Fax viewer as a print medium should - as far as the big three - are concerned finally become redundant.
This is a five cartridge offering the three colours each have a single cartridge and there are two blacks, one the same size as the colours and a larger black one that no doubt enables the reasonable text print speeds.
To achieve 'draft' mode with Canon printers you need to create a custom mode with a slider set to speed. This produces slightly grey output but not as grey as that from another manufacturer and it is still perfectly reasonable.
I do not often mention 'normal' mode but as the 'draft' here has to be manufactured the normal print speed of a real document is around 8PPM.
Printing the ubiquitous 200 word document in draft mode came in at a very acceptable 20PPM but you must expect a reasonable noise level and the paper to be spat out. For the same draft setting the 1500 word document spread over four pages came out at only slightly less 18PPM. In both cases it was slightly grey but manipulation of the slider to give better quality could produce an acceptable colour without having to revert to 'normal' mode and the less than spectacular 8PPM.
As an image printer this was fast, while for me speed is not that important as long as manufacturers quote them I must give my actual timings. I have over the years seen times drop while as ink droplet size reduce and the output quality increases. I can remember one multi function unit not that long ago took over 24 minutes to print an A4 image. So the 100 seconds for perfectly acceptable images here is the other end of the spectrum. While anything less than say 300 seconds would to me be acceptable providing the image is clear, crisp and has depth.
Canon have always had good software and their Photo Print offering has long offered the ability to print four near 15x10cm images on a single A4 sheet and these were the images that took 100 seconds, the images were only just slightly tacky on the back edge.
The Easy PhotoPrint has a three tab offering 1) Select Images, 2) Select Paper type and Size 3)Select Layout. Having done this press print. So easy and as mentioned earlier the other two major manufacturers now offer something similar.
Printing on CD's is now something that is growing in popularity and while PhotoPrint has options for this - under paper type - there is also CD Label Print and this is totally designed for just this purpose.
Finally another piece of software Easy Print Toolbox is also supplied and this is there to assist the novice to get good results without effort.
Doing my Internet searches found the Canon Pixma iP5300 at a best price of £85.97 from the first link below.
http://www.amazon.co.uk/gp/product/B000IFQM7W
http://www.canon.co.uk/For_Home/Product_Finder/Printers/Bubble_Jet/PIXMA_iP5300/index.asp