HP Laserjet 1022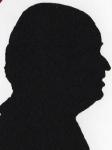 Review controls
Small, neat and simple to install and use. These are just some of the attributes of the HP Laserjet 1022 mono laser printer.
Buy Now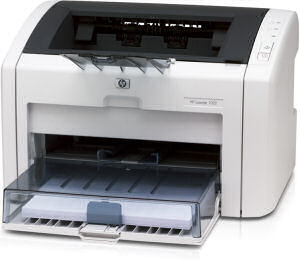 There are in fact three models all bearing the 1022 label this the cheapest that is USB, the next with an N for network at the end of the 1022 that can also connect via Ethernet and the top of the range 1022NW that is network and wireless. Apart from the connectivity the units themselves are identical.
The one thing you can always say for a laser printer is that it will always print textual pages at the speed stated. The specifications say up to 18PPM and printing both my 200 word test page and my 1500 word document spread over four pages they were produced at 18PPM as long as there is paper in the tray. In fact in my initial test using the normal method of ignoring the first and last copy I got 19.5PPM.
The unit is totally quiet in standby and initial warm up is only around 15seconds. It is 34x36x23cm, these are not the figures you will see on the HP site but the actual space taken as the power plug sticks out the back somewhat. Also on the back is the on/off switch so if you do not have a gang/surge strip/socket then you could find you leave it on by mistake.
Paper is stored face up in the open tray at the bottom of the unit and delivered face down on the top of it. Unless you get a paper jam you are unlikely to need either of the buttons on the right top side of the unit, there are also three LED's and again they are not of any great importance as Windows will inform you of any errors. This last point is possibly more important for the 'N' and 'NW' models as they may be in a separate room to where the PC is if you connect by Ethernet or Wireless.
The paper tray is stated to hold 'up to 250 sheets' I would not be happy at 200 and most of my tests were conducted with half that. The second input is above the main tray and stated to hold 'up to 10 sheets' I would you this manual 'priority' feed for letterheads and again I think the stated capacity is optimistic.

Print quality is excellent and of course you can also print greyscale graphics, I often think a greyscale image - carefully chosen - can look even better in a newsletter or flyer than colour can, or course the other main advantage of a laser over an inkjet is running costs that are far lower.
Finally pages from a laser are always dry when they emerge, sometimes a page may be slightly warm but that is all. I tend not to be a fan of duplex printing and saying that manual duplex printing is available means you have to feed the page back through and don't forget to work out the orientation. Unless you have thicker paper the print will probably show through anyway. I know I find documents printed on both sides a pain especially with longer ones when they are not numbered.
Anyone needing to print a good amount of text pages then a laser printer is a good investment, this unit is small and while the higher models can be used networked the entry level model I looked at with quick start up is a nice alternative to an inkjet.
Doing my searches found this at £114.90 including delivery from the first link below.
http://www.amazon.co.uk/gp/product/B0007ZGSQ8/202-9276050-9787028
http://h10010.www1.hp.com/wwpc/uk/en/ho/WF06a/5043-5343-5347-5347-5411-12094318.html