Canon Selphy DS810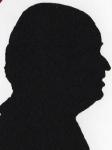 Review controls
So what is Selphy, it is a photo printer that prints 15x10cm images. Like most other inkjet manufacturers Canon have a unit, however in shape anyway is rather different.
It is 22x22x10cm in the closed position, it weights less than two kilos. However not only will you need around 10cm of space in front when in use as paper is stored and delivered at the front of the unit. You also need to allow close to 10cm behind as the sheet is fed out the rear of the unit so it is not bent at all during printing.
There are a total of nine buttons and a four position wheel on the top of the unit and this along with the TFT display allow you to control what, how, when and where.
The unit has a single tri colour cartridge. I was perfectly happy with the prints it produced. A lot of the images I printed were from a Canon camera - review of that to follow shortly - however I also printed a range of other stored images taken from a variety of sources and the images compared to those produced from other 15x10 printers I have used. I also checked some images from A4 printers. Again I was perfectly happy with the output.
I do not really worry - within reason - about the time taken to print the image but this was also rather good at around 55seconds per image this is considerably better than some other manufacturers units.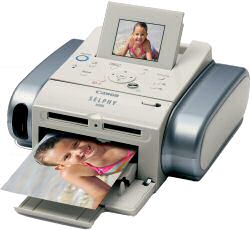 While this unit can be connected to a PC via a standard USB cable it is also capable of functioning without ever being near a PC. It can also receive data from Bluetooth or Infra Red. More normally perhaps you would remove the card from your camera and insert into the Selphy, it then reads the images and you can choose how many and of which images you want to print. You can also show a 'screen show' of your images on the 5x4cm TFT display and this can be raised from the horizontal by about 60degrees to facilitate a better viewing angle to cope with various light sources.
You can also connect a camera directly via 'Pict Bridge' and read manipulate and print images in that way. The rear of the unit has power input and USB connector. However remember you will need around 10cm clear when printing behind the unit for the paper to be pushed back before it is pulled back into the unit during printing.
The unit looks and feels sturdy it has silver grey sides and the rest of the unit is cream. There is a 96 page Photo Printing Guide that seems to cover everything, no doubt if this unit was primarily a Windows printer we would not get this.
There is nothing sinister in me using a Canon camera with this unit - I also used my own Olympus camera as well - I just happen to be looking at that at the same time. The images I keep as reference come from a variety of cameras and some are even scanned professional images of more than a few years ago.
I expected a quite high price and indeed most of my searches produced a figure of around £140. However for some reason Pixmania had it for only £99 inc p&p and at that price it seems a very reasonable purchase. It is fast - this matters to some - gives good prints that are dry on arrival and looks solid.
http://www.pixmania.co.uk/uk/uk/155698/art/canon/selphy-dsaai-printer.html?srcid=37
http://www.canon.co.uk/for_home/product_finder/printers/direct_photo/selphy_ds810/index.asp