Dragon gets even better

Review controls
The latest version of Dragon Naturally Speaking (DNS) speech recognition software, Version 13, is more accurate, easier to train and works with a wider range of applications than previously. Consequently, an even wider range of people should be able to benefit from its use.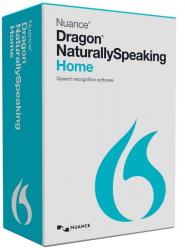 click image to enlarge
DNS is arguably the most popular speech recognition application with this latest incarnation, which is claimed to be 15% more accurate and easier to use than previously, available in Home and Premium versions. Hence, there is a one to suit most people's needs and make it easier to create and edit documents as well as sending emails.
Advances in speech recognition technology have enabled Nuance to make the "training" far simpler than before. It only requires the user to read a short paragraph, mainly to calibrate the microphone, to produce more than acceptable results even before one has allowed DNS to read through your existing documents to build a profile taking into account any unusual words in your vocabulary. However, it is important to appreciate that the quality of the results are influenced by the quality of the microphone used.
Although a suitable microphone is provided with a boxed product, the user of a downloaded version has to provide their own. In this context, a list of approved, and tested, headsets is available on the Nuance website. There is a note, however, that says that this list is not comprehensive as new headsets are being tested and added to the list all the time.
I downloaded DNS and tested it with two headsets: the Jabra Biz2300 (which is on the list); and the Logitech H570E mono which is too new to be on the list. In both cases it was a simple task to retrain and so obtain very good recognition accuracy. While there are cheaper headsets available, it should be borne in mind that even though acoustically those headsets may sometimes produce good recognition, users who make extensive use of Dragon need a headset that will be comfortable for long periods.
In use, DNS does not impose a large footprint on the screen. The Dragon Bar sits at the top of the screen to provide the user interface both for microphone switching and accessing control and setup. In normal use it is minimised and only used for microphone control as virtually everything including, "go to sleep" or "wake up" and editing commands can also be done by voice.
DNS automatically detects available PC resources and is able to take advantage of multi-core processors and support full text control and command & control with applications including Gmail, Yahoo Mail and Outlook within Internet Explorer, Firefox and Chrome. However, although I found that it was very straightforward to get to grips with dictation, it took longer to become familiar with command and control for editing etc. The command "cheat sheet", which is among the documentation on the website, was very useful.
Both versions support modern versions of MS Word, NotePad, WordPad, WordPerfect and OpenOffice etc. In addition, Premium also supports Excel and Powerpoint however, with the latter the "dictation box" opens automatically because there is no full text control. This dictation box facility also enables DNS to work with unsupported applications.
Added features in Premium, that are of importance to the corporate user, include the ability to import/export custom word lists and user profiles as well as being able to create voice commands to insert frequently used blocks of text and/or graphics.
Other features, which I have also not had the opportunity to try include "wireless dictation" using the Dragon Remote Mic app which works with a number of Apple and Android devices and the fact that DNS now supports the microphones built into some of the latest laptops which, yet again, obviates the need for a separate headset.
But who should use DNS? Anyone who has to do a fair amount of typing. Even touch typists can benefit. While the corporate user will find that the extra features in the Premium version, price £139.99, will make it easy to justify the extra expenditure, the majority will find that the Home version at £79.99 will meet their needs. In fact, now that DNS13 supports the built-in microphones increasingly found in the latest laptops, many executives may also find it worthwhile to have, in addition to Premium on their office machine, Home on their laptop to ease and speed up the preparation of reports etc. while away on business trips.