Animation Software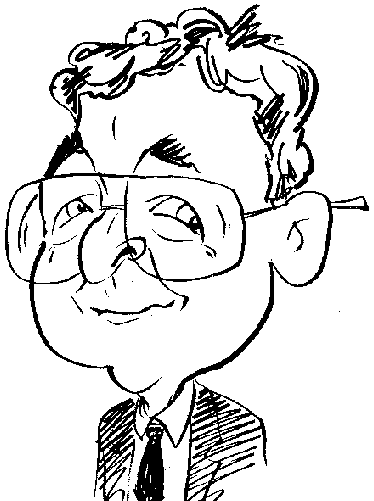 Cameras, lights and action are all under your control when using the latest 3D animation software from Reallusion.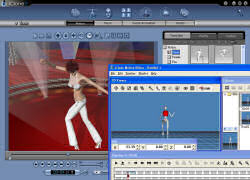 When a product offers to test your system for its graphics capabilities in order to gauge its suitability for a particular title, you begin to wonder just what you might be letting yourself in for when running the software. With Reallusion's iClone 2 Studio, it was an excursion into the field of avatar generation and accessible 3D animation produced in real time. It should be noted that these animations are not going to challenge the Disney and the like's dominance but are quite capable or producing a valuable introduction to the world of animation and produce results which impress friends and family.
The program's interface provides a view area with standard VCR-like controls and a tool bar; a file manager area where you add the various components of the animation; and seven large buttons for switching between the different elements that make up your visual creation. A tutorial is provided as part of the Help system to introduce you to the product and its functionality - there are also online tutorials which, I must admit, I have not checked out. However it is possible to jump straight in and experiment with the various libraries of characters, scenes, animations etc. that are provided as standard (third-party content is available online).
When selecting your character, there is a limit of one character per scene, you can either opt for one of those provided or build up one Frankenstein-like from various body parts with adjustable skin tones and physical dimensions. Ready made characters include a hip-hop, news reader, sexy dancer, footballer (American style), business man and surfer. You can modify any of these by switching body parts and accessories. For a more personal approach you can import a digital image of your face or anybody else for that matter. You will need a front full-face image as some facial mapping is required.
Adding an appropriate background scene is just a matter of selecting from those available and it will take up its position behind your main character. Both 2D and 3D indoor and outdoor scenes are available. A range of props can be added but I could not find a way to resize or position these items for the maximum effect. More control is allowed over the positioning of cameras and lights.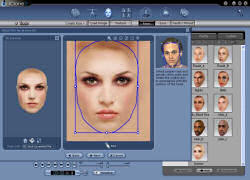 Working with animation again involves a choice. You can use the different pre-set movements or create your own in the motion editor. The supplied animations have been classified as Dance, Female, Fun, Male and Pose. Adjustments can be applied to facial and hand movements. Background music can be added but you are restricted to just using the popular WAV format. You can also add various special effects. A timeline feature lets you make adjustments and edit the flow of your work.
Finally your work can be saved as a video or images for distribution to others, Web-based posing or suitable for mobile viewing. If you stick with the pre-defined elements then you can have a 3D scene with an animated character up and running within minutes. For more original content you will need to spend time in getting everything just right but the effort should be worth the results you get at the end of your endeavours.
Reallusion iClone 2 Studio requires a Windows ME/2000/XP system running on a Pentium 600MHz with 256MB RAM, 1GB of hard disk space, a high or true colour display and a graphics card supporting DirectX 8.1 or later. Do not worry if your graphics card fails the initially testing as it should still be possible to run iClone. While you may feel that £99.99 is rather a high price to pay for a fun product, iClone 2 Studio is an appealing product that is easy to use and produces good results. Shopping around your can find it for less than the recommended price. Amazon are currently stocking it with a 20% discount at £79.99 :
http://www.amazon.co.uk/gp/product/B000ODT0RW