Feet and Face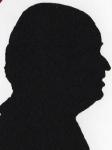 Two items from the Homedics range that would not normally receive my attention, being Diabetic I know I must look after my feet but for those who do not, a device that may help, I am long past worrying about my looks the second might improve your complexion.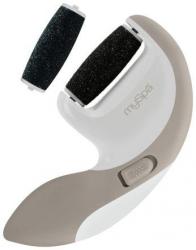 click image to enlarge
mySpa 2-in1 Instant Pedi
Badly fitting shoes or socks may cause your feet to rebel and if so you get rough or damaged skin on the soles of your feet and if so it needs to be smoothed away.
The box says 'easily buffs away hard skin for visibly softer feet'.
It is 15cm from top to bottom, 7.5cm wide at the head end and 3cm wide at the same point. It weights 165grams. It runs on three 'AAA' batteries that are supplied.
Strangely fashion – something I know little about – is the main cause of such devices getting used as ladies wearing ill-fitting shoes and high heels all day at work give their feet an unnatural workout meaning that bits of the foot get excessively rubbed removing and irritating skin to the point where it rebels.
This unit comes with two rollers coated with a substance that to my untrained eye looks like sand paper in course and extra course.
Like most devices it is made to be used in the right hand and the three position rocker button is off, slow and fast clearly visible, if however you use it in your left hand then you must use this rocker control by touch as it will be away from you.
'Salon luxury in your own home' is another claim but I cannot confirm that as the only work on my feet has been conducted by a podiatrist when a nail got infected and needed treatment.
There is an Instruction Sheet that covers how to use and how to store.
The mySpa 2-in-1Instant Pedi is available from Argos for £34.99
http://www.argos.co.uk/static/Product/partNumber/5325388.htm
mySpa Facial Cleansing Brush
Having removed dead skin from the soles of your feet now my attention is turned to the face and not even I would use the foot device reviewed above on my face so this powered brush is provided to do the job of deep cleaning and exfoliation.
It is 16.5x5.5x6cm and weights 162grams; it runs on two 'AA' batteries that are provided.
The cleaning head has concentric rings of brushes two white on the outer, two black and then at the centre three more rings of white brushes.
The back of the device has a simple on/off rocker button to start or stop the device.
There is a small Instruction Manual that covers use and cleaning of the brush.
The unit also comes with a small holder to keep the brush in an upright position ready to use.
The box says 'deep cleaning and exfoliation for radiant looking skin' while I know men seem to care for their skin these days I still think this item will get more use from ladies.
The mySpa Facial Cleaning Brush is available from the link below for £30.89 with free delivery.
https://www.amazon.co.uk/MySpa-Facial-Cleansing-Brush/dp/B00UGB3I66/ref=sr_1_1_a_it?ie=UTF8&qid=1470729290&sr=8-1&keywords=myspa+facial+cleansing+brush