i Health Core HS6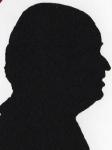 Review controls
Up until the last few years a bathroom scale read out your weight. Now they link to Apps and seem to tell you so much more, this item will even tell you your bone density and before long they will possible even tell you what you had for breakfast.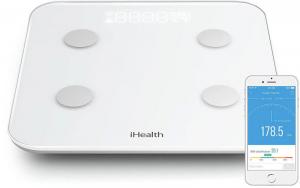 click image to enlarge
My last comment was flippant but you never know.
The scale is 35x35x3cm it weighs 2.64kilos.
Setting up to a recent SmartPhone – either iOS or Android – is straightforward providing you have Bluetooth 4.
There is a barcode on the back of the scale and this needs to be scanned using your SmartPhone once the App is downloaded and running. This then links your scale to the App.
When you are on the scale – in bare feet – it will first show your weight and then bone density and then back to your weight. If you press the sync button on your phone while on the scale the figures are updated to both your phone and the Cloud.
If you have socks on when you stand on the scale it will only register your weight.
There are two pairs of metal circles built into the otherwise glass platform and your feet must cover the circles for your bone density to be registered. If you stand sideways on the scale you only get your weight.
The App is the clever bit in the extra calculations it makes with the data you provide. It is also possible to link the scale in with other iHealth items. Other items previously reviewed such as Blood Pressure monitors, Blood Oxygen levels and for Diabetes sufferers your glucose levels.
So while the current trend is for fitness devices the iHealth way is to give information that may help to keep you alive a somewhat different take on the word 'fitness'.
The iHealth Core HS6 is a wireless body composition scale, as stated above this device possibly helps to keep you away from hospital by the scale listening to the signal given by your body.
Charts and Graphs are a good way to track tiny changes and to possibly help solve problems before they become critical. Just like fitness trackers you can set goals and see any progress easily.
I do not claim to have found all the claims made below but it seems such a comprehensive paragraph I print it verbatim.
"Measures you weight, body fat, lean mass, muscle mass, bone mass, body water, body mass index (BMI), visceral fat rating and Daily Calorie Intake (DCI). Also measures room temperature and humidity."
When you start exploring all the sub sections of the App then the figures and the amounts above start to materialise and – in my case anyway – you then begin to understand how the inside of your body works.
One of my many health problems is Diabetes and my visits to the surgery nurse are helpful as she can show trends on her computer whereas on the occasions I see the diabetic doctor I get no such information. Perhaps it's down to the fact that nurse's care and doctors do their job.
The screens of an App like those of the iHealth App give you the information and when you know what to look for then it can help to alleviate the problem.
Around ten years ago something the doctor said to me stuck 'diabetes is a progressive disease'. It certainly is one that more of the world now has to cope with and apart from taking readings and cutting out certain foods, your weight and other reading delivered by this scale can help keep the progression away.
The iHealth Core HS6 Scale is available from Amazon for £96.63 with free delivery.
For more information on the whole range visit the iHealth web site.