iKlips II 64GB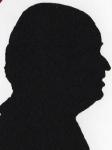 Larger memory sticks are always useful if you need to transfer large files such as videos to various destinations, if these devices have the ability to work on what are otherwise conflicting operating systems then so much the better.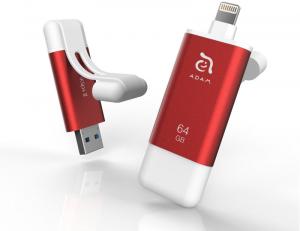 click image to enlarge
It is only slightly longer than a standard USB stick at 6.5x2.3x1cm and both the end pieces are covered. It weighs only 16grams.
Assuming you only lift one cover the other is held in place as the rubberised cover has two strips down the back which if required can be integrated into a belt so you never lose the stick unless that is you lose your trousers.
The Lightning connector is one end and a standard USB3 (actually USB3.1) connector the other.
Either can be used on a suitable device to transfer data and files and move to another device be it on the same or opposing operating system.
The USB3 connector will also work – at a slower speed – on USB2 drives.
The casing is aluminium and available in red or dark silver grey whichever you have comes with the white end caps and a belt grip connection. They are available in 32GB, 64GB and 128GB sizes.
The stated USB 3.1 transfer speeds are 130MB/s read and 50MB/s write speed.
For Lightning the claimed speeds are 32MB/s read and 20MB/s write.
This device is great for storage of large videos as it uses ex-FAT on the PC side so no reasonable file size limit.
So this means whatever the size of your 1080p or even 4K movie it can handle them.
There is a new App called iKlips 3.1 that is described as being better than most media players and even supports subtitle files.
Below is a table showing likely capacity.
| | 32GB | 64GB | 128GB |
| --- | --- | --- | --- |
| Photos | 17,000 | 34,000 | 68,000 |
| Videos | 40 | 80 | 160 |
| Songs | 8,000 | 16,000 | 32,000 |
For those using Apple devices there is an iKlips 4.0 Smart App in the iOS store which works with iPhones, iPads and iPod Touch devices.
For those on the PC side when you need to transfer files to a MAC or other Apple manufactured devices like iPhones, iPads or iPod Touch just unclip the other end of the rubberised shell and transfer.
The Silicon Rubber belt clip is strong enough so you know is will not move and only lifting off one end cap will release it.
The iKlips II 64GB as supplied to me is available from the link below for $69. (32GB $49, and 128GB $109).