Wilko Food Mixer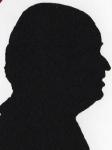 It is rare for me to start with the price; £20 for a food mixer on a stand is I think unique, so I asked to review one. You could probably get a basic hand held offering for this price but certainly not one with a set of beaters a set of dough hooks as well as a large stainless steel bowl and stand.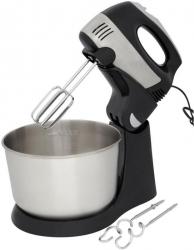 click image to enlarge
Assembly is just a matter of unpacking, remove the stand from the box along with the beaters and dough hooks, then unpack the actual mixer unit, the longest job was removing the plastic tie from the 1.2 metres long hard wired power lead, now clip the mixer into the stand and plug in the lead and you are ready to go, maybe two or three minutes in total.
There has to be a drawback and there is a small one, you need to turn the bowl by hand which in most cases will not be a problem especially if you are adding items while the mixer is working but it is not insurmountable. The only time I see this as a larger problem is when things need to mix for a long time when with a unit that has a motor to turn the bowl you would just leave it running for several minutes.
Wilko actually call it a 'Mixer Set' and the motto on the box is 'it does all the hard work so you don't have to' which seems just about correct.
The unit has five mixer speeds plus a turbo mode.
The bowl is described as 3 litre capacity.
You can of course use the beater unit with external bowls or saucepans and for things like boiled potatoes to turn them into mashed or 'creamed' it works well as this keeps the heat from the cooking saucepan in the potatoes.
The dough hooks enable bread products to be mixed and prepared but with bread the hard work is not in the mixer it's on the surface as with pastry.
The easy eject mechanism for the beaters/dough hooks means they can be dropped into the washing up bowl. The stainless steel bowl has virtually straight sides so again very easy to wash.
The rest of the unit should require little more than a wipe over with a damp cloth unless you tend to fill the bowl to its upper levels.
I liked the large bowl which on occasions for mixing things seemed far too large but that does mean that ingredients get plenty of room to mix.
The 300w motor coped well with everything I tried.
So for the price of an entry level hand held unit you get that and a 3 litre bowl and stand.
Wilko do not have a huge range of electrical equipment but they do basics like kettles and microwaves so ideal for those starting out. I see they also do a Hand Blender set. They also do other household essentials like crockery so why not pay your local store a visit you may be surprised at what to do.
If you do not have a local Wilko then try their website. www.wilko.com
The Wilko Food Mixer Set is available for £20.
http://www.wilko.com/blenders-food-mixers+processors/wilko-food-mixer-set-stainless-steel-3l/invt/0316226