Upper Arm Blood Pressure Monitor Omron Evolv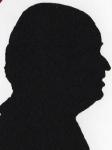 Some things I test are more appropriate than others and here a device that I use frequently as my blood pressure does tend to vary which according to a consultant at the local 'older persons clinic' is because my diabetes is not great.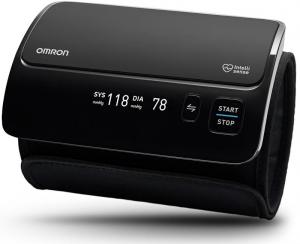 click image to enlarge
While I was aware that when I tend to bend down to do something like tie my shoe laces I do know that on standing up things do swim around a bit.
The differences of your blood pressure are really shown by taking it sitting, standing and lying and while in all of us there will be a difference in those three scenarios having a device attached that can record the differences can be very helpful in determining any real problems.
This is an upper arm device that is totally contained, it runs on batteries and has no trailing wires and the total weight is 285grams.
The stiffened part easily makes a 20cm circle so unless someone has extremely large upper arms it will not be a problem. There is an 11x11cm grippy area on the 20cm long area beyond the measurement part that facilitates easy removal.
While you would not normally take measurements over clothing I tested it over shirt and sweater and got almost the same results as on a bare arm.
The white on black numerals are easy to read and stay on until you switch the unit off, it gives both the systolic and diastolic readings on one screen and this alternates with pulse and so there is no rush to write the figures down. If you forget to switch off it will turn off automatically after two minutes of inactivity.
All the measurements taken can be synced via Bluetooth to an App. But for those who do not use a SmartPhone you can still take readings manually using paper and pencil, noting what you were doing when the figure is vastly different will also be helpful for the medical professional.
When you visit your doctor you are always told to keep the lower arm still and while vigorous movement is not recommended there is a built in sensor to check and make allowances for any movement while you are taking a reading.
Also in the box are a zip up case to allow storage of the unit in a case for those who travel. The four 'AAA' batteries that fit in the rear of the cuff are also supplied.
Nine different user guides are supplied and yes one is in English. The App can be found at either the iOS or Android stores omronconnect.com/setup.
As I know varying blood pressure is a problem for me I tend to keep a regular check and here the App is ideal as it saves having to write down figures and the time of day being store in the App may also offer advice to a medical professional.
This is a well made product and it is easy to use. While a wrist operated unit may be easier to use your doctor will always take the reading from the upper arm.
The Omron Evolv is available from Amazon for £119.09.