Toshiba Exceria Pro M401 64GB Micro SD Card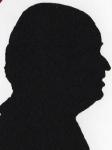 Until recently mobile phones could accept up to 32GB micro SD cards which gave you another way of storing data, photos and most likely videos. Now the majority of recent phones will accept larger capacity Micro SD Cards up to 64GB and possibly even more.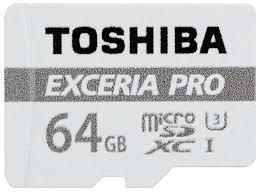 click image to enlarge
Recently I ventured halfway up The Shard for a presentation by hard disc manufacturer Toshiba. It covered what Toshiba do, with the essence on their recent hard drives including a new 8TB desktop unit and while there I requested their mid-range external USB unit that I will tell you about when it arrives.
While I was at the event talking over lunch to the main presenter about phones and other devices using micro storage I was offered a 64GB micro SD card for use in phones this covers my first uses of this item.
As I recently told you in another review things have moved on from 4, 6 or 10 as a rating of speed for read and write which is what video needs to capture all the detail. That review was for a small video camera by RICOH that needs a great deal of data to be stored quickly for 4K video and the new UHS-I cards. The accepted limit for these devices is around 30MB/s
I saw this unit in the Toshiba display and another of the presenters talked me though the complex subject, This card has a technical possibility to read data at 95MB/s and to write data at 80MB/s and these figures should mean that even for devices that go beyond 4K that data should be stored easily without any frame drop which can lead to replay stutter.
When the card arrived I placed it in my phone and stared putting it through its paces.
To know the true transfer rate will need specialist devices, however you and I can tell if frames are dropped when we capture video, the same applies for cameras that can capture burst mode for still images, do you get the number of images you expect if so then the card is probably able to store the data quickly enough.
For most knowing that the card can capture the data is all you need to know.
This card is actually UHS Speed Class 3 and in that it is rated at speed class 10 which is a lot faster for both read and write than a standard Class 10 card that until recent time was the fastest available and then there was UHS-I USB Speed Class 1 that was the fastest I had and it was used in the RICOH review. Now this is not only a bigger card - 64GB - but a faster class.
I was able to test it with the rather good Huawei P9 which of course accepts the larger card capacity of 64GB – in fact another journalist mentioned it supports even larger cards once reformatted but I cannot confirm this – and all the still images and video I have stored on it to date are fine.
This card comes with an adapter so it could also be used in devices that require the full SD Card size, I liked the fact that the micro SD Card was white which immediately makes it easier to see and also tell apart from most other micro SD cards that are the normal black colour.
The Toshiba Exceria Pro M401 64GB UHS Speed Class3 card is not yet available as far as I can see.
However its predecessor the UHS Speed Class1 is (read speed 40MB/s) available from Amazon for £14.55 at the date of writing. I will update you and also add a link when I can find a price for the UHS Speed Class3 unit I was sent.
Amazon has just listed the Toshiba Exceria Pro M401 64GB UHS Speed Class3 for £43.86 with free delivery.