Skullcandy Barricade Bluetooth Speaker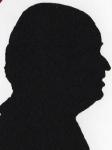 This is a small Bluetooth speaker from a company with a good reputation for sound quality. However they also have another less desirable reputation – for me anyway - that of their boxes having to be destroyed to get the contents out of them.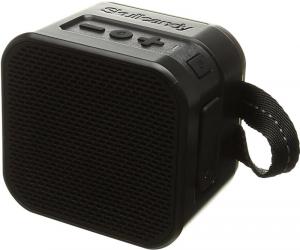 click image to enlarge
The Barricade Bluetooth Speaker from Skullcandy measures 12x10x7.5cm and weights 510grams, the last figure could be important as it has a fabric thumb loop to enable use while on the move.
It should be drizzle proof – I try to say that rather than shower as some might consider shower to mean what occurs in the bathroom – with a rubber bung covering external connections.
The rubber bung is on the right side as is the thumb loop and behind the bung are Auxiliary In and Out, Micro USB for charging and full size USB to enable charging of other devices.
In what remains of the box once you have removed the speaker is a 50cm micro USB to USB cable for charging the internal battery. There is also a small cardboard sleeve which contains two booklets the larger one is of course the safety and warranty instructions. The other is a 24 page 7.5cm tiny 'Quick Start' booklet with one instruction per page in sixteen different languages.
The back of the box also has two diagrams with explanations in English, French and Spanish but as the box has to be mutilated to get the contents out this will probably soon go to landfill/recycling.
There are four buttons on the top of the unit – and + for volume and between these 'call answer' to the right side is the sensitive pin hole microphone then an LED and finally on the shaved edge the on/off button.
While this can be used with an Auxiliary In 3.5cm lead and I did for my sound quality and range tests it is designed for Bluetooth connection and like most Bluetooth speaker manufacturers Skullcandy are probably rubbing their hands in glee at Apples removal of the headphone socket from their recent offering. The 'Call Answer' button is also the Bluetooth pair, a five second push should initialize this process and from then on every switch on should pair automatically.
Pressing either the + or – buttons for around two seconds should move you forward or back a track. It is possible to connect a further speaker to the Skullcandy Barricade but I cannot comment on this as I only have the one. I easily achieved the 8 hour playing time claimed.
I did some tests using the Bluetooth mode and as usual the signal will break up beyond around 10 metres or even less if your building has solid walls or metal beams but as few people will let their phone out of their site this is hardy relevant.
As stated most of my tests were with sound files I store on an MP3 player which has all Genres of music and include voice files, most people of my advanced age have some hearing problems and most of these involve the higher frequencies such as the female voice. As far as my tests went this speaker produced all the sounds clearly, I am not a huge lover of enhanced bass and surprisingly this unit did not suffer with that problem.
The Skullycandy Barricade is available from Amazon for £29.99 with free delivery.