Sage 'Bit More' Toaster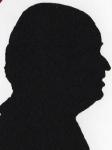 While some other companies may have a wider choice of models from more companies AO have a big plus in that they offer next day delivery by their own vans, you are rung on the day and yes they deliver when they say they will. Another plus their prices are very keen.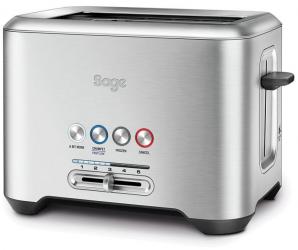 click image to enlarge
This toaster is called 'Bit More' as it allows you to just add a little more colour to your toast without starting the whole process again.
Heston Blumenthal is a chef whose restaurant is always full; his name is linked to a lot of unusual dishes cooked in strange ways. His name is on a range produced by Sage a high end electrical manufacturer so you should have gathered this is not a cheap unit but as it is sold by AO you will certainly be pushed to find anyone else selling it cheaper.
It is 28x18x19.5cm and without you needing to rush into the kitchen to measure your toaster this is quite big as the toaster part is inside an outer shell which allows heat to dissipate and any small hands touching the outside are unlikely to get burnt. The two toast slots are 14cm long and 3cm wide.
It is stainless steel and apart from normal toast it can do thicker bread, fruit breads and even crumpets with the last named having an instruction to place the holes inwards.
There are four buttons on the front of the unit towards the base, A Bit More, Crumpets/Fruit Loaf, Frozen and Cancel. Below this is a horizontal scale where you choose the darkness of the toast via a slider and while toasting this lights up in a line of rectangular LEDs to show how much longer before done.
When it pops up if you think it could do with a bit more then push that button and instead of the whole process restarting it just adds a little more (short time) to the slice.
When cooking frozen in most other toasters you have a choice of very likely cooked toast or repeating and probably getting overcooked. With this unit you just get perfectly cooked toast.
In order to test things fully I purchased some crumpets and a fruit loaf and these two were cooked to perfection.
If I have a gripe it's where I place my toaster the push down mechanism is on the right side and I would prefer it on the left, with other toasters that have no buttons you can just use them back to front.
A word of caution if like me the 'read this first' instructions get at best a quick look, a friend of mine was cooking his porridge on his hob one morning when he smelt electrical burning he sniffed round the kitchen and could see nothing as only the hob was on, he continued to stir his porridge and then out of his peripheral vision saw a very thin line of grey smoke rising from his toaster he immediately unplugged it. However when he then went to its box and read the instructions it clearly said unplug when not in use, I certainly had not seen that but on studying the 'read this first' for this unit you are told that. So while you think not using a device might mean it cannot be using power that is so, but power is still going to the device.
This is a super top of the range unit and you could probably buy two or three others for the cost of this unit the toast it gives is excellent.
The Sage by Heston Blumenthal 'Bit More' Toaster is available from AO for £72.
http://ao.com/product/bta720uk-sage-by-heston-blumenthal-the-bit-more-2-slice-toaster-stainless-steel-34871-79.aspx