Retro Games Console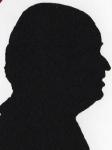 A small screen tiny buttons it looks so strange today but only not that many years ago it would have been the thing to have, over 150 games built in would have at that time been unheard of. However when you are old enough to remember these sort of basic offerings the one thing you certainly don't miss – as a music lover – is the terrible music and sadly that is still here.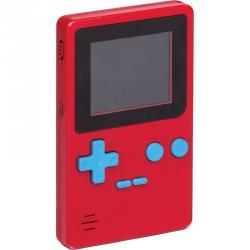 click image to enlarge
The console is 9.3x5.5x2cm and it weighs 72grams. The viewable screen is 3.5x2.8cm.
Below the screen on the face of the unit are a five position joystick, to its right round buttons marked A and B and below this two bar buttons marked Reset and Start. Near the bottom on the left side is the speaker.
On the left side a slider button for on/off and below this a volume control.
The unit needs 3x'AAA' batteries not supplied and you will need a small Philips screwdriver to insert behind a door in the back.
I suspect young children might enjoy this unit which has no sharp edges and once the batteries are screwed in nothing small enough to eat.
While I was sent this as one of possible things for Fathers Day unless you have a strange relationship with you father I doubt it would be top of his list.
Perhaps the most fun thing is – for those old enough to remember these items first time round – there are no instructions so 'suck it and see' seems appropriate. Maybe something for Grand Fathers Day if there is one.
However for the very young child – still in the pram or push chair it might keep them quiet – if you can deaden that dam music – and as during my travels I see such infants playing on their parents iPhones perhaps a lot cheaper when they get a strop on and throw it out of the pram.
Of course the main reason I am being so critical is because I am useless at games always was even at school so if I won at any of the ones I tried it was a total fluke.
The actual product seems well made and should survive the odd drop or three which I doubt mums iPhone will.
Keeping a young child amused on any journey is a relief for its parent and probably for anyone else within ear shot so while none of the twenty or so games I had more than a quick glance at does have the benefit of keeping the child amused.
There are indeed 150 so that's just under 12p per game plus of course the cost of three 'AAA' batteries.
As a fellow bus or train passenger to any child using this I would say great, now I can concentrate of the crossword in my paper, mind you I am not that great at that either.
The Retro Handheld Console is available from the link below for £17.99 and if you give your email you even get a 10% discount so if you are offered the same deal that would make it £16.19 or less than 11p a game.
https://www.thefowndry.com/collections/gadgets/products/8-bit-portable-lcd-games-console