Power in your pocket

Review controls
Cygnett's ChargeUp Boost and ttec's PowerStones Trio each offer a different approach to ensuring that you have backup power for you mobile when you need it.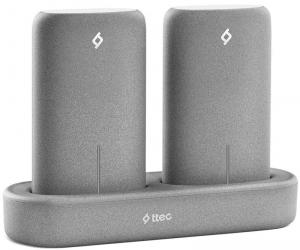 click image to enlarge
As we become more dependent on our mobile phones and tablets, it becomes more important that we don't run out of power while on the move. Not only are devices becoming more power hungry, as they age, battery capacity goes down and so we need the insurance of carrying some form of separate back-up battery to minimise the risk of running out of power. Added to this are the other devices, such as portable CD players, where an external power "brick" will make a cost-effective alternative to the expensive throwaway AA batteries.
The sensible answer is to make sure that one always has a well charged battery pack at the ready. However, even though a great many such packs incorporate status LEDs to show remaining charge, they are not ideal so there is the need to have a better way of ensuring that the battery is fully charged when you need it or, even when it is may not be fully charged, being sure of what is the actual amount of power available. One approach, adopted by Cygnett, is to provide a more accurate means of determining actual charge available while ttec provides a dual docking station to make it a simple task to manage your batteries. Hence, one can choose the route that best suits your needs.
The Cygnett ChargeUp Boost 10,000mAh is one of a number of units of different capacities offered by the company all of which support quick charge. At 143 x 73mm, it is the same size as many smartphones even though, at 230g, it is somewhat heavier. It is, however, about 155m thick which is nearer the size of a phone when in a case. It is matt black in colour with one microUSB input and two normal USB output connectors. During charging the LED digital display indicates the current status so that it is easy to see when it has reached its full charge. In practice, as one would expect, while the numbers went up rapidly at first it slowed down as it got towards 100%.
At any other time, one only has to touch a button on top of the power pack to get the percentage status to be immediately displayed so confirm whether it is ready to go.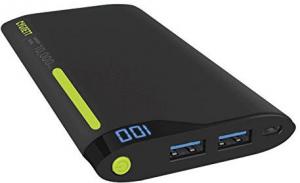 With its PowerStones Trio, ttec has adopted a totally different approach. The Trio consists of a pair of 5,000mAh batteries and a docking station. Each battery is grey in colour, 92mm tall and has an oval cross-section and, weighing about 120g, sits comfortably in one's hand. The microUSB input and standard USB output ports are at one end together with the electrical pads for making connection when in the docking station. Tiny magnets in both the battery and the docking station ensure a firm and reliable connection.
When one places the battery into the dock the current state of charge is indicated by the height of the strip of LEDs and, as one would expect, it is fully lit when fully charged. There is, by the way, an automatic cut-out to prevent over-charging. Hence, the docking station can remain connected to a suitable charger so that batteries can just be dropped into at any time. Equally well, batteries can just be left in the docking station and just grabbed as and when needed.
In view of the reliance we place on the phone or tablet that is with us all the time one needs to have a power and charging strategy in place. In conjunction with a suitable wall charger able to deliver 2A or more both the Cygnett's ChargeUp Boost and ttec's PowerStones Trio are good quality well designed products that can each back up both phones and tablets and provide suitable solutions to differing needs.
My take on it is that Cygnett's ChargeUp Boost 10,000mAh, priced at £29.95 (there are also 5,000 and 15,000mAh units) is ideal for the person who is faced with very heavy demands phone or tablet use on occasions as the user can quickly make sure that they are prepared to meet that demand before they hit the road each day. For those who have a heavy demand each and every day, PowerStones Trio, with its two 5000mAh batteries, is ideal for the person (or even two in a family) who make heavy use of their phones and/or tablets each and every day. Then, when they return to base they place the batteries in docking station and then picked them up, fully charged, in the morning.