Philips 273V7Q no-frills 27 inch monitor

The Philips 27 inch monitor 273V7Q is a no frills basic 1920 x 1080 unit offering reasonable performance and so will meet the needs of many users who want to keep their eyes on their budget.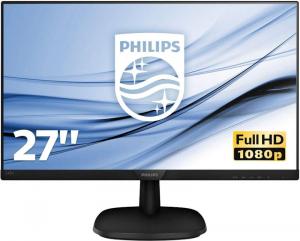 click image to enlarge
The monitor, which has a 16 x 9 aspect ratio IPS panel with WLED backlight, is approximately 24inches wide and, like many more expensive products, has a frameless black bezel on three sides and just 1 inch wide on the lower edge. Near its right hand end of the lower edge is the power indicator LED and, printed in white, are the labels of the controls which are located conveniently on the underside of the bezel.
The only adjustment offered by the stand is tilt over the range -5 to +20 degrees so that one has to turn the whole unit side to side if one wants to let someone else view the screen at the same time. However, in practice I found that this wasn't a problem. Similarly, the (fixed) height was suitable as the lower edge of the bezel was just 4 inches above the desktop. There are, by the way, screw holes on the rear of the unit to enable it to be mounted on a wall or elsewhere using a VESA mounting bracket.
There is a choice of inputs: VGA, DVI-D and HDMI all of which are neatly grouped together with audio input and headphone output sockets towards the LH (as viewed from the front) with the IEC connector for the built-in power supply being nearer the RH end. The power consumption is not excessive. In-operation it is about 15W and falls to less than 1W in both Off and Standby states.
The built-in speakers are adequate for general usage but would probably not satisfy someone who is keen on music who would probably want to use external speakers or, alternatively, plug headphones into the socket provided.
The LED-backlit IPS panel has an anti-glare coating and, while possibly not as bright as some other monitors, the brilliance was perfectly adequate for normal usage. Overall, I found that the colour rendering was good and that it had a wide viewing angle and that it was easy to set it up to view various types of input from straightforward text in both documents and spreadsheets through to high resolution photos. As well as the on-screen display offering the usual range of detailed settings that enable the user to set up the monitor to suit their best needs, there is also SmartImage which enables one to choose from a number of pre-set options.
These are: EasyRead, Office, Photo, Movie, Game, Economy and Low Blue Mode. As one can simply step through them, it is a quick and easy task to select the appropriate option at any time. EasyRead presents a grey scale image while economy offers a degree of power saving while Low Blue mode reduces the amount of short wavelength blue light which studies have shown can cause eye damage and effect vision over time.
This is a down-to-earth no-frills monitor priced at £152 but available on Amazon for £144.48. The fact that it does not seem to be so robustly built as some monitors and money has been saved, for example, by having just a basic stand does not mean that image quality has been sacrificed. Consequently, there will be a place for the Philips 273V7Q in many homes and offices.