Philips 272B7QUBHEB business monitor

Review controls
This 27inch QHD Philips monitor, model 272B7QUBHEB, has been designed to provide high performance and to incorporate a range of features such as USB-C docking which are aimed at improving ease of use and enhancing business productivity.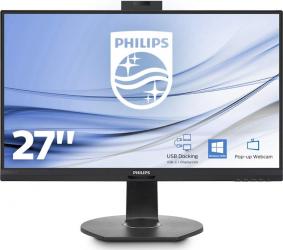 click image to enlarge
The monitor, which employs an IPS panel with WLED backlight has a resolution of 2560 x 1440 and a 16 x 9 aspect ratio. The high resolution of the QHD panel will be appreciated by many business users as it can display 70 rows of a 30 column spreadsheet – if you are happy to view 10 or 11pt type.
It has a frameless black bezel on three sides with the lower one being just one inch. The controls are all located conveniently under the RH lower edge of this bezel with the associated captions (although somewhat small) being printed on the face and there is a pop-up web cam built into the top of the monitor.
The unit is just a fraction over 24 inches wide and so lends itself to the increasingly common multi-display set-ups. Its spring-counterbalanced stand provides a wide range of movements so that it can be set to the most convenient viewing position. In fact, from the position when the lower edge of the bezel is within one inch of the desktop it can be moved vertically up through a range of 150mm and tilted over the range 30 to -5 degrees as well as being slewed laterally so that it can be adjusted to the best position for everyday use as well as for when using the built-in webcam. However, the IPS panel gives a very wide viewing angle without really affecting the colours so one rarely needs to swivel the screen through the wide range that the stand allows.
Smartimage, accessed via one of the pushbuttons, provides a range of viewing choices including Office, Photo, Game, Movie and Economy which enable the user to switch quickly between modes. In addition, there is LowBlue Mode which many might find useful as studies have shown that shortwave-length blue light rays from LED displays can cause eye damage and can affect vision over time.
The IR sensor in the lower bezel is used to activate the power save mode which reduces consumption by up to 80% when one moves away from the screen. When one returns the previous screen brilliance will be restored.
The webcam is mounted into a retractable housing about 9cm wide which when raised projects about 2.5cm above the top bezel. When not required the webcam can be pushed down so that it sinks flush with the bezel and there is no chance that it could open the door to snoopers. As well as being used for Skype etc., it supports Windows Hello which is a Windows 10 feature allowing facial recognition login security.
Connectivity is as one would expect for an advanced business monitor. In addition to the standard HDMI there is DisplayPort, RJ45 and USB-C. When using the DisplayPort the daisy-chaining function, for which there is both input and output ports, there is the choice of Clone or Extend.
The monitor also supports Display Port Alternate Mode for USB Type-C. This is increasingly incorporated in modern laptops and is a functional extension of USB-C to enable it to carry video, audio, data, and network signals over the USB-C cable. This, in conjunction with the built-in USB hub which provides 4 ports, one of which is fast charging, is very useful in minimising cable clutter as well as enabling quick and easy docking of one's laptop. However, for those notebooks that are not capable of being charged through a USB-C port there is a 19V 3.42A DC output socket on the LH rear of the monitor. The monitor also supports Intel NUC mini PC and other compatible devices.
Available on Amazon priced at £540.15 this is an expensive monitor which performs well and offers advanced features and would probably suit business users who use their laptop on the move and so need quick and easy docking. However, in order to obtain full benefit one needs to have, or be aiming to buy, a laptop that supports USB-C DP Alt mode for video transmission.