A Business Router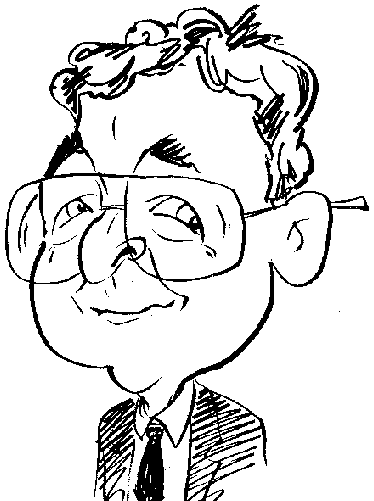 Review controls
Adding to its range of Smart Managed Switches, NETGEAR has released this next product.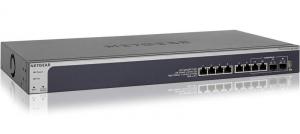 click image to enlarge
While mere mortals generally find the four Ethernet ports making up standard routers or router/modems to be adequate for their local area network needs, those involved in running small to medium business environments need more powerful devices with a greater range of available Ethernet connections. One such product offering to deliver the additional power and more Ethernet connection is the NETGEAR ProSAFE XS708T. This product forms part of NETGEAR's range of Smart Managed switches.
Designed to deal with heavy networking traffic, this NETGEAR ProSAFE can either operate in standalone mode or as a racked device. The product is versatile enough to act as the core element of a small business's network or to provide an access switch in a larger organisational set up with multiple 10G connections hung off at various point in the system.
With dimensions of 440 x 205 x 45mm (W x D x H) including the four rubber feet mounted on the base of the unit, this sturdily constructed unit is decked out in a gun metal grey colour. Arranged along the front of the box are ten Ethernet ports divided into the main group of eight 10G RJ-45 copper ports and two shared 1G/10G SFP+ Fibre ports. Ports 7 and 8 of the main group have the additional ability of supporting either 10G base-T or combining with the SFP+ ports for networking when the need arises.
Situated to the right alongside these Ethernet ports is a single USB 2.0 port whose main purpose is to provide the means of carrying out any firmware updates that might be necessary. LED lights for power and fan activities can be seen on the left end of the unit's front panel. Located on the rear of the unit are the mains power socket and a label providing Mac and Serial number information plus a Kensington lock mini socket to help secure this device.
While the main ventilation vents are positioned along the right side of the unit, the fan, with its own vent, is on the left side of the box. The noise level produced by the fan was such that I found it disconcerting when working in close proximity to the ProSAFE device. This gave me a clear indication that this device is more suited to be used in a data centre rack location well away from the main work area.
In order to get the optimum performance from this ProSAFE device, you need to download the ProSAFE Smart Control Center utility. To ensure you have the latest version of this software, it is not included as part of the hardware package but the latest version is made available for downloading. This software is available for downloading from http://www.netgear.com/support/product/scc. This site also provided you with access to a PDF 29-page version of the product's User Manual.
The ProSAFE Smart Control Center utility will automatically recognise the presence of a powered NETGEAR device when it is connected via the supplied Ethernet lead. Using a spreadsheet like interface with columns, rows and tabs, this utility provides feedback regarding the current status and allows information to be entered. Tabs running across the top of the screen allow you to quickly switch between views entitled Network, Maintenance, Tasks, Adapter and Help.
The NETGEAR ProSAFE unit is capable of supporting low-latency 10G Copper BASE-T technology with backward compatibility to Fast Ethernet and Gigabit Ethernet. It can also utilities existing CAT5e/CAT6 RJ-45 connections up to 30 metres and CAT6A/CAT7 connections up to 100 metres.
NETGEAR ProSAFE XS708T

| | |
| --- | --- |
| 100/1000/10GBase-T RJ-45 copper ports | 8 |
| SFP+ 1000/10GBase-X fibre ports | 2 (shared) |
| USB port | 1 |
| Packet buffer memory | 3MB |
| Forwarding modes | Store-and-forward |
| Bandwidth | 160Gbps |
| Packet forwarding rate | 416.6 |
| Priority queues | 8 |
| Priority queuing | Weighted Round Robin |
| MAC address database size | 16K |
| Addressing | 48-bit MAC address |
| Multicast groups | 512 |
| Number of IPv4 static routes | 32 |
| Number of IPv6 static routes | 32 |
| Number of routed VLANs | 256 |
| Number of ARP cache entries | 738 |
| Number of DHCP snooping bandage | 8K |
| Access Control Lists (ACLs) | 100 share for MAC. IP and IPv6 ACLs |
| Jumbo frame support | Up to 9K packet size |
Aimed at business environments, the functionality of the NETGEAR ProSAFE XS708T is reflected in its suggested price point of £739.99.