Home Protection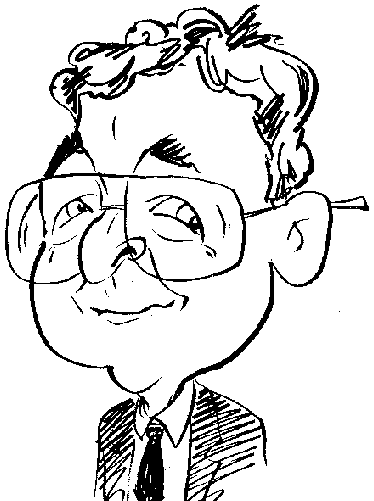 I have to admit that I was totally unaware of the company Myfox until I was offered the opportunity to check out a couple of the company's products.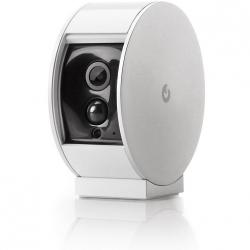 click image to enlarge
Myfox is a French company, founded in 2005, based in Labège. The company's stated aim is to redefine home security with unique solutions designed to safeguard families, their homes and possessions. Since developing one of the Worlds's first connected home security systems in 2009, the company has gone on to develop its award-winning IntelliTAG™ sensor which forms part of the company's new releases.
While available as separate products, the Myfox Home Alarm and Myfox Security Camera can be integrated into a single home security system controlled from a single device such as an Apple or Android smartphone or tablet. The Myfox Home Alarm kit consists of a Siren, Link unit, IntelliTAG vibrations and opening sensor plus a key fob controlled by the Myfox Security app which can be downloaded from the Apple or Google Play Store.
Implementing this collection of items requires the app to be downloaded first so that an account can be created. You will need to provide your name, a password, email address and location as to where this security system will be installed. Instructions will be provided by the app for setting up the hardware elements.
The Link unit, Siren and key fob are circular in shape and remind me of various containers. In the case of the Link unit the container would hold boiled sweets while the Siren could act as a shallow biscuit barrel. The key fob could well double as a pill holder for those on a regular prescription. Continuing the container theme, the IntelliTAG unit is shaped like a small match box.
Each element needs to be integrated into the overall system under the auspices of the Link unit. With certain units, the wireless connection was quickly established but this was not always the case, resulting in batteries being removed and then replaced before trying again. Some patience was required.
Mounted in a mains power plug socket, the Link unit does live up to its name. It co-ordinates the different elements making up this home security system. Built-in batteries ensure that the link can perform its duty for a period if there is a power cut or it is removed from the power source for any reason.
The biscuit tin Siren can be wall-mounted or tucked away out of sight. As its name implies, this element provides an extremely loud audible output. It can deliver its audio at 110db which you are unlikely to endure for more than a couple of seconds as I quickly discovered when I accidently set off the alarm. Fortunately the key fob was near at hand and I was able to deactivate the ear-splitting cacophony before neighbours were disturbed.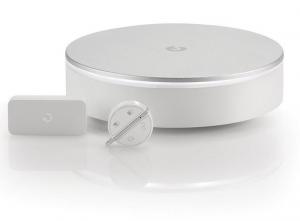 click image to enlarge
The key fob, not only holds your keys, it can be used to deactivate the system. Other options allow you to switch to Night mode and set off the Siren with a panic call that also sends off a message to relevant parties. When you leave your premises with the key fob, this action will be detected and the system will be activated. Your return will be acknowledged by the system being turned off.
The IntelliTAG device can be mounted on a door or window. The choice will depend on which point of entry would pose the greatest threat. According to Myfox the technology used by this device enables it to detect a possible break-in before it happens due to its ability to distinguish between different types of incidents. I have no reason to doubt this claim.
Overall the system worked reasonable well although total peace of mind could not be really established until the system foils an intended break in. The kit, which can be expanded with further IntelliTAG units, is available from Amazon.com or the Myfox online store priced at £249.
You can also integrate a Myfox Security Camera product into this protective environment. Following a similar colour scheme, dominated by silver and white, with a circular container shape, the Security Camera comes with a small mounting stand holding the camera in an upright position, power lead and an assortment of plug types. You are almost meant to get a small reset tool but this seemed to have gone AWOL from my review sample.
The camera's 130 degree wide angle lens delivers its captured content at 720p with a night vision option possessing a range of 5 metres. When not in use, to ensure privacy, a shutter can be automatically implemented so that there is no record of you breaking your New Year Resolutions.
Accessible from a paired smartphone, you can receive a live feed of what is occurring but, without opting for a subscription service, the content can not be saved to the Cloud. A £3.99 monthly service contract will get you a day's worth of video content while for £7.99 a month you get a week's storage. Both the live stream and transfer to the Cloud is protected by 2048-bit encryption.
When incidents are detected you are informed by an alert message. Two-way audio is possible and this would be fine in some situations but my cat religiously ignored my commands to stop whatever he was doing – which is what I expected to happen. The camera compares favourably with other products in a similar price range. Myfox has priced its Security Camera at £169.