Morphy Richards Steamer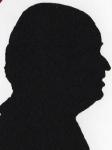 Steaming food means that the goodness -often boiled away- is retained. So is it possible to have healthy and good tasting food. This item from Morphy Richards gives you a good chance and best of all it is not a whole lot of fuss to produce it.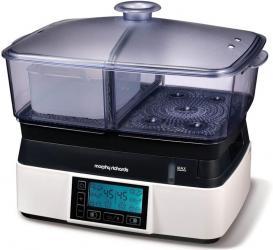 click image to enlarge
While food can taste great things with different flavours still taste better when kept apart in preparation so this has two compartments and even a special container for rice.
It is 29x21x29cm the last figure is the height so the footprint is small onto whatever you place it on.
The front of the unit has a 7.5x3.2cm display with six control buttons in an 'L' shape down the left and along the bottom of it. Towards the right edge is a water gauge. The bottom of the rear has the hard wired mains lead emerging and this is 1metre long.
There is a 20 page A5 size instruction manual and receipt booklet.
The base is the part that heats up the water to become steam on top of this is a drip tray and on this are the two steaming compartments divided by a snug fitting removable wall. This means things of totally different characters and taste can be steamed together, finally a lid so that nothing can escape the top to smell out your kitchen so things as diverse as onions and fish can be prepared and no residue of them left in the air after your meal.
The 'Control Panel' has a food icon key for each side of the dividing wall; the items covered are veg, meat, fish, poultry, eggs and rice. As everything is icon driven they are easy to follow. There are preset times for cooking each of the six categories mentioned, but if or when you know better these can be decreased or increased using the + and – buttons.
The instructions are clear and have adequate illustrations. There are three pages of 'Steaming Guide' for various vegetables fish and poultry.
Five pages of recipes should be plenty to enable you to modify your existing recipes to suit the constraints of steaming.
So how do things taste, different is the short answer as you are not getting oil or other cooking mediums to tarnish the taste of the meat, fish or poultry. As far as vegetables are concerned they taste of vegetable and while that might sound stupid even a potato can taste totally different when steamed to even boiled.
This is certainly something to get used to and to be frank you may not like the initial change as years of fried roasted grilled and casserole all have tastes associated with them rather than the food you are preparing in that way.
Of course without additives what you are tasting is the food so a favourite such as 'fish and chips' will not taste the same at all and it may not even feature in your favourites when you steam fish and potatoes.
Just remember this is something healthy and you may manage to change your palette to taste the food and not the cooking medium.
The Morphy Richards intellisteam compact comes with a two year guarantee and is available from the link below for £49 with free delivery.
http://ao.com/product/48775-morphy-richards-intellisteam-steamer-white-27998-98.aspx