Monster iSport Compete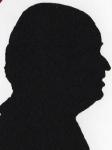 Sub titled The Athlete's Headphone this set of earbuds will get noticed for its lime green colour, still I suppose the athlete will be able to move fast enough to keep the attention on them rather than the earbuds that they are using.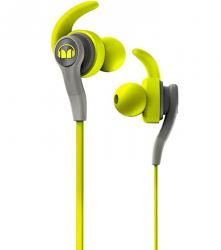 click image to enlarge
These buds will stay in place during even the most vigorous of exercise simply because of the hook fitting behind the bud. Hook is perhaps the wrong word as it does not spear you merely its silicon rubber attaches to you to be held securely.
They are 1.3 metres from the 'L' shaped grey connector to the lime green and grey earbuds. 15cm down from the left earbud is the small control box and then another 20cm on the two flat leads become one but there is an adjustment if you require them to meet sooner.
It is nice to be able to open a box and remove the contents and still have somewhere to store the two spare sets of earbuds plus the extra hooks as well as the instructions, yes here is a box that does not need to be destroyed to get at the contents, a big cheer from me.
For those who do not immediately roll the buds into a ball and place them in the nearest pocket there is a small drawstring bag to protect them when not in use if nothing else far more hygienic than the inside of the average pocket or purse.
There are two instruction sheets, first a close written 'safety instruction' offering and second one third of a side in English and French to explain the microphone position and multi-function button on the control box.
Having got a good fit in the ear – remember the other two pairs of buds and hooks – you then embark on your first listen.
I keep an MP3 player just for such purposes with a range of files across all Genres just to be able to tell if the whole range of sounds are there.
The buds are good solid fit which means that bass is enhanced – without being over emphasised – and there is also a deadening of external sounds which could be dangerous if running alongside a road but you can still hear a cars horn so not all noise is totally excluded.
The nearest I come to running is a gentle trot when late for a bus or train but I confirm that the buds stayed resolutely in place, I even tried some exaggerated head movements – when alone indoors – to try to move them without success so I guess that part works.
I was happy with the sound quality throughout the range and Genre of music and voice.
I also attached the buds to my phone and made and received calls without problem.
The flat cord means that there is less likelihood of the cable knotting in your pocket or even the drawstring bag. I remember a recent story from the news of a girl who had a spider in her ear from a set of earbuds that she just put on and it needed a specialist device to remove the spider.
The Monster iSport Compete are available for £49.95 from Amazon and are also available in sky blue and grey for the same price.