Lumie WakeUp Light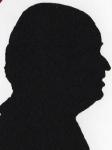 We all feel so much better when we are woken by bright sunlight, of course there are exceptions like if your alarm has failed to go off and you are already late for work and the boss has previously had a go at you for lateness.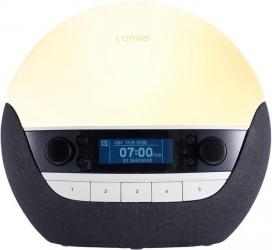 click image to enlarge
Some days even in mid-summer you are not going to get bright sunlight so the solution to straighten up your body clock is to be woken by light rather than a raucous alarm. These tend to work somewhat differently by waking you slowly which may take a few minutes if you are in a deep sleep.
If you are very lucky you may have around three hours during the night when you are in deep sleep the rest of the time it is a far lighter sleep. If you are unlucky you probably only have far less deep sleep and most of that occurs just before the alarm sounds.
The WakeUp Light is not a new invention and you will find three others in the back articles on Gadgetspeak. The difference with this one is that it helps at the other end with low blue light to help you unwind and remove the stresses of the day.
It is oval and slightly wider than taller the dimensions 21x19x17cm the later at the base between the flat stand and the control buttons, the top half the light is only 8cm deep.
The supplied mains lead connects under the rear of the unit and ends in a small power brick at the 13amp socket.
Connections at the rear are for headphones out, Auxiliary in and full size USB socket that has more than one use. First you can connect a memory stick with MP3 files which can accompany your light alarm, second the socket can be used to charge your mobile phone or other device such as a Tablet.
The front has three knobs and buttons to the left and to the right of a 6x2cm white of black variable brightness display. All the actions and setting are described and explained fully in the User Guide.
Below this are five touch buttons that you can save tracks to and these as well as a Bluetooth device or a USB stick can be used at both 'Sunrise' and 'Sunset' or in real terms when you want to wake up or go to sleep.
If there is a short power cut of less than 30 minutes the unit will retain the time and all the other settings if longer no time is kept but all your other settings are still there.
It comes with an A5 three language User Guide the first 24 pages are in English and should explain everything you need to know.
Like all such lights the brightness of th3e light is what wakes you, the added feature here is the low blue light and the settings you use to help you go off to sleep. If there is a particular program that always sends you to sleep – bores you – then why not record it and put it on one of the five touch buttons.
The wake up section needs 30 minutes to reach full brightness and during that time you should be at a low level of sleep so to wake you kindly.
The Lumie Body Clock luxe 700 is available from Amazon for £170 with free delivery.