Lenovo Yoga Book YB1-X90F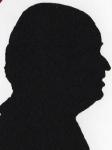 Not just another Tablet/Notebook this looks very different and while it has an attached keyboard there is nothing showing when it is turned off and it can also be used with a (pen) supplied as a drawing area altogether taking things in a new direction.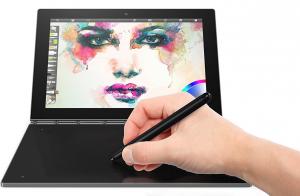 click image to enlarge
They do a PC and an Android version I was sent the Android one.
It is extremely thin and could even be described as a book because of the way the hinge looks, it is 25.5x17.5x1cm, the last figure the thickness is at the back and its even less at the front, it weighs 690grams.
The viewable screen is 21.5x13cm.
Everything about this unit is minimized. The left side has a micro USB for charging and data transfer, next is a micro SD card slot and then a micro HDMI should you wish to use a larger viewing device. The front is bare as is the back, top and base, this leaves the right side that has a 3.5mm headphone socket, volume rocket for the tiny internal speaker's one on each side and the on/off button.
Unless you see this you cannot appreciate how slim, smart and like a thin book it is in its gun metal grey livery.
Now a few facts even though the screen is only 10.1inches when measured diagonally it still shows a standard PC screen of 1920x1080 without looking small. It is sadly glossy so when outside you need to position yourself out of direct sunlight.
It has 4GB of memory and a 64GB eMMC Flash memory with around 60GB free.
It takes around 20seconds from pressing the on/off buttons to the home screen. It is around six seconds to off from the home screen as you have to confirm twice that you want to switch off, both on and off also have vibrate to tell you your instructions are being performed, normal on a phone and as this has a micro SD card slot OK I suppose. You also have to swipe up on the screen to unlock.
The 82 key overlaid keyboard works well with a small sound when each key is touched.
The stated battery life is 15+ hours; I never got that but did manage 14 hours in medium use.
Any Android Apps you normally use should work as you have access to the Google Play Store.
The multi touch screen worked well. It is a Halo keyboard and experienced users can generate great speed and accuracy.
As a Notebook on Android it feels a little strange but flip it though 180 degrees and use it as a Tablet it feels exactly at Home, it has Android 6.01 and so far I have not been offered the chance to upgrade to Android 7.
The speakers give a good sound plenty for personal use.
This has two cameras the 2MP one above the screen is easy to find but the main 8MP offering is to the right side of the Halo keyboard but when used as a Tablet it is where you would expect it to be centre top when in portrait mode.
An unusual Notebook/Tablet and as an Android device the Notebook side felt a little strange, as a Tablet I was far happier. I hope to be able to report on the Windows version later this year.
The Yoga Book (Android) YB1-X90F is available from Amazon for £424.99 with free delivery.