Kurio Smart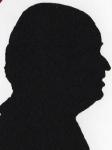 A reasonably priced Tablet produced by a company in the toy field but equally useable – without restrictions – for an adult. Unlike a lot of recent Tablets this comes with a detachable keyboard and even the latest version of Windows 10 (v1607).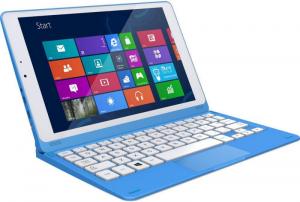 click image to enlarge
Kurio describe it as '2 in 1 Tablet + PC.' It is creamy white with blue keyboard and screen surround. The keyboard is a little smaller than full size and has 61 keys these are just about typeable for an adult but ideal for a child.
This unit has excellent Wi-Fi and Bluetooth built in. I found the units five point touch perfectly acceptable.
The viewable screen is 18x12cm with the notional diagonal display of a tad under 9 inches. The screen display is 1280x800 pixels. The keyboard weights 397 grams and the screen weighs 468 grams so overall 865 grams.
The base of the screen when docked in the keyboard (landscape) has a small speaker each side, these face forward unlike some that face backwards.
I would suggest that if this is for the target market a child the parent or guardian should spend a while getting all the latest fixes downloaded and this takes time as Microsoft insist they are done with various restarts required. It was a very pleasant surprise to find that the latest version 'Anniversary Edition 1607' already installed but there are still updates to be done.
Once completed then use the software provided to setup the child account, this decides what online sites – if any – they can visit and can even setup hours or use. Of course all this falls over if the child knows your administrator password so as stated do it all while the child is not around.
It comes with more than 50 Apps and Games pre installed. It also comes with Word, Excel and Power Point mobile versions included for the older child.
It has 1GB of RAM and normally I would call this inadequate but not in my tests on this 32bit operating system unit. The 32GB of SSD storage is not huge and you only have around 11GB available but as so many Apps and games are already installed having this amount free from a 28.7GB drive is very useable. Just remember to remove all the temporary and other files once you have completed the cycle of updates before your child gets their hands on it. There is a micro SD card slot so extra memory can be added and this is the ideal place to save games in progress to keep that 11GB on the main drive free.
Connections are on the left side of the Tablet with 3.5mm socket for headphones, micro HDMI and micro SD sockets and the DC power input. The micro SD slot is also on this side as is the rear facing camera.
The 30 seconds boot up is OK and the shutdown is 8 seconds. While this has an Intel processor it is an Atom one so those figures are quite good.
For most games using this as a Tablet is all you need as the onscreen keyboard can be opened from the tray for any keyboard entry. However you would not want to type in Word with this method as the onscreen keyboard takes half the screen.
Yes the screen is reflective and does show fingermarks but then so do lots of far more expensive units. It is ideal as a first real computer.
The Kurio Smart is available from the link below for £169.99. While the link says Windows 8.1 it should now come with Windows 10 v 1607 as new stock comes through.