Kaspersky Total Security 2019

Review controls
Kaspersky Total Security 2019 is aimed at meeting a family's need for computer security with Safe Kids parental control being one of its additional features.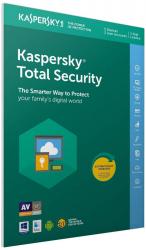 click image to enlarge
Buying any computer security product is very similar to fitting locks on windows and doors. You know that it is important to take precautions even though you don't know what threats you may actually be exposed to. Hence, it makes sense to fit secure locks to protect against eventualities and give peace of mind because, after all, not doing so could be very expensive in the event of a break in.
Kaspersky offers a whole range of products so it can be seen that the situation is that "you pays your money and takes your pick". However, KTS which the company describes as "Ultimate Protection for Your Family's Digital World" is aimed at providing all-round protection. This includes protecting privacy, passwords files and photos; financial transactions; as well as protecting children online.
KTS can be downloaded from Kaspersky.com as 30-day free trial which can be converted to the full version by buying the licence online. Alternatively, it can be bought from Amazon or over the counter.
When downloading the 140MB file and running it do not make the same mistake that I did. I overlooked the well-known rule that one should only have one AV program and so left my existing one running. The effect was that even though KTS installed smoothly without any problems I found that my email client was crippled.
Once that was dealt with I got on with the installation and accepted the recommended settings, even though one has the option to deselect any one or more of the options. These were to turn on protection against ads, to install only desired software and block additional installations; delete malicious tools, ad-ware, auto-diallers and suspicious packages; and to detect other software that can be used by criminals to damage your computer or personal data. In addition, it offers the opportunity to "take a tour through the application features".
When downloading and installing it starts with Notification Centre where the first item is Licensing which indicates that it is the trial version which "in 31 days the applications functionality will be limited". This is the point at which purchasers will need to enter the activation code.
Then, irrespective of whether or not one has the activation code to become a registered user or is running the trial version, KTS spends some time updating its databases and application modules. This updating it regularly does automatically even though the user has the option to do it manually at any time.
Once the installation was complete the tour lists, with explanations, the benefits of KTS. However, even if one bypasses that, one is not left in the dark as there is a short description for each application shown in the main tools window so that one can decide which ones you want to implement.
By the way, importantly, Kaspersky recommends that a full scan is run immediately after installation – and gives a warning that this might take quite a time – and there are options to opt for quick or other scans.
One can download from the Kaspersky site password manager which keeps all your many passwords and bank card numbers etc. in a vault which is accessed using a single master password. Hence, this is the only one that you need to remember. Privacy protection prevents anyone spying on you by limiting access to your webcam as well as having private browsing which prevents data being collected about one's web activities.
Parental controls can be set up to limit hours of use of the computer as well as being able to block games by age and category. In addition one can set up internet access controls and so prevent youngsters visiting inappropriate sites.
Under the heading of Safe Browsing one can set up a list of sites, such as your bank and Amazon, so that you can make all online payments via the protected browser. Another form of protection is provided by Backup and Restore which enables selected files to be backed up regularly to a removable drive or online storage.