Jabra Corded Earbuds Elite 65e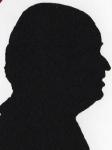 Having recently told you about a set of Gels (earbuds) from Jabra that I requested at a Xmas In July event I now delve to the bottom of the items given at that event and find a pair of corded buds also from the same company Jabra.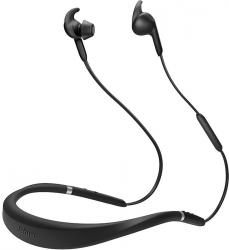 click image to enlarge
While Active Noise Cancelling is normally something that larger over ear headphones offer this set of earbuds have it and few if any other recent earbuds have offered this feature.
There are three sizes of silicon Gels (the bit that goes into the ear) these are small medium and large as well as three sets of wings (often called fins) the bit that fit into the outer ear to hold things in place for those who do more vigorous exercise with the earbuds in situ.
The connection between one bud and the other is via a collar style cord that goes around the back of the neck to there is no connection to your SmartPhone and while I have called it 'corded' in the title there is no physical connection between the buds and your music apart from Bluetooth.
With most corded headsets ending in a 3.5mm plug going to your SmartPhone the control box is normally on the left cord here I found the box with three buttons that control your music is on the right side not the left according to illustrations in the Getting Started Guide and on the front of the box.
In fact there are three different microphones so whatever your position whoever you are phoning or receiving a call from should get you loud and clear.
Unlike recent units that have crossed my path that are sold for fitness, training and use while exercising that come in highly visible colours like yellow or green these are more sober in shades of dark grey or black.
Use of the ANC technology will reduce battery time between charges but I still managed the claim of 'up to eight hours' with ease but I use earbuds at a reasonable volume and high volume will reduce time between charges. Around two hours should give a full recharge using the supplied short USB lead.
The three buttons on the control block are multi functional dependant on the time you press them covering turning on/off, answering a phone call, playing music and moving forward and back a track.
The other block allows you to turn the noise cancelling on/off and mute output.
My own tests were somewhat inconclusive, yes external sounds were reduced but not totally when in a noisy environment like a tube or a London street. However having tested a set of headphones that totally excluded outside noise I thought that would be dangerous when out and about as you would not hear a warning such as a car horn.
The facility to hear external sounds is called 'Hear Through' by Jabra.
I already had the excellent JabraSound+ software installed (available from Google Play Store) on my phone from my review of the earlier earbuds and their equalizer software works well and you just use their settings to play music.
The Jabra Elite 65e is available from Amazon for £164.50 including free UK delivery.