Home Baker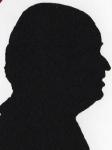 Walking around a recent show in London found several interesting stands, one of the most interesting was one from a firm based in Birmingham that had a range of interesting electrical items, here is the first of three that I selected from their wide range.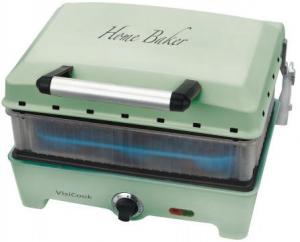 click image to enlarge
A lot of modern homes do not have a conventional oven, so this small unit could enable things to be made that otherwise would only be childhood memories. It can also be used instead of a conventional oven when cooking for one at a far lesser cost.
For those of us old enough the remember the Breville Sandwich Toaster this is a slightly larger unit and you just plug it in and cook.
The maximum dimensions are 29x27x17cm and it weighs 2.64 kilos.
It comes with three silicon rubber trays, the first a tray with sides, the second a loaf tin and the third six cupcakes moulds in a tray. There is also a 5.5cm extension to be used with the loaf tin when making bread to allow for expansion during cooking.
An eight side A5 booklet explains the use of the oven and a forty side spiral bound receipt book with clear instructions and some illustrations.
While the light green colour of the unit may be a bit Unitarian this is irrelevant to the taste of the items cooked within it. During my testing period I have tried several recipes from the supplied book and even a couple of my own. It has one simple control a temperature rotary knob from 100c to 220c. This is marked either with the number or a dot, beside this two large LED's red and green.
There is a hard wired 13amp plug lead of 72cm emerging from the back so your socket will need to be nearby.
I made a reference to a Breville toaster earlier and this works in the same lift up way but because certain things need a lot more expansion when cooking there is a two stage bracket at the rear that either – lower position – fits snugly or – higher position with addition inserted raises the area by 5cm.
Follow the instructions and results will be fine. If you are making breads you need the higher position or it cannot rise as the whole points of this device are to save energy costs as you are heating a far smaller area and to allow those without a conventional oven to still be able to bake.
While the 28.5x19.5x5cm oven extension units initially looks a little flimsy it does its job and the opaque sides mean you can watch things rising whereas to see other items in the 'lower position' will require opening the oven and thereby losing heat.
The silicon cooking trays are perhaps the reason this works. The purple dish 'full plate lower tray bake mould' at 26x18x3cm will just lay in the unit to allow anything to be cooked within the main unit. The orange loaf tin 'loaf mould' 21.5x11.56cm will normally be used with the extension in place. Finally the third tray provided the six yellow cupcake holders in one fitment 'cupcake mould' are circular at 6.5cm and 4cm tall.
Even though I have a double oven – I used to be a chef – I rarely use the main oven these days and I can see that the Home Baker will get use as its silicon moulds mean that whatever you cook just presses out be it cakes, breads or even your individual delights in the cupcake moulds.
The VisiCook Home Baker is available from Amazon for £52.95 with free delivery.