HP EliteBook Folio G1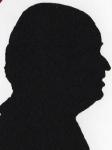 Although Windows 10 was available to some to download as early as August last year this is the first unit that I have reviewed that was designed to use Windows 10 and by that I mean it can use all the features that Microsoft had as selling points when they tried to persuade people to upgrade. A natively installed product this is what Windows 10 should be.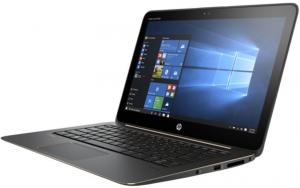 click image to enlarge
The HP EliteBook Folio G1 measures 30.5x20.5x1.5cm the last figure at the back and less than 1cm at the front, it weights 1230grams.
The left side has a Kensington Lock Port, HDMI, USB3 and Micro SD ports. The front has nothing not even LEDs. The Right side headphone socket, USB3, SD Card port and finally DC charge socket. The back has nothing as the screen goes down over it to 135 degrees.
Open the lid and the slate grey outside disappears and matt black keyboard with copper coloured backlit letters appear. The let-down for me is the shiny black touch screen that is reflective and shows every fingermark and as its touch there will be a lot.
The 83 ke6y keyboard has alpha and numeric keys at full size, the 2.3cm strip behind the keyboard has the Bang & Olufsen speakers and to the left of them the on/off button. There is 2cm clear on each side of the keyboard and a near 8cm wide strip in front of the keyboard has a rather good 10x5cm trackpad (called a ForcePad) mounted 10cm from the left and 11.5cm from the right, towards the right side of this area is a fingerprint scanner.
Bootup is around 10 seconds. Screen blank from Desktop is around 2.5seconds.
The viewable screen is 27.5x15.5cm which is around 12½ inches diagonal measurement. The screen resolution is an amazing 2560x1440. Surprisingly this is remarkably readable and the only change from default is to display text at 150% of size, for those with poor eyesight this can be increased even more up top 225%. The real beauty of this screen is that with a standard HDMI lead and nothing else your screen can be shown on a large panel for a wider audience.
The ForcePad is far more than a standard TrackPad and while it of course duplicates a lot of actions from touch it is worth learning.
There are a few HP Apps but as far as I could tell no Bloatware. It comes with Windows 10 Pro.
While Cortana still does not function as she should with the touch you can annotate documents as all the glossy Microsoft ads say.
The Intel Core m Pro makes it rapid and the 8GB or RAM on this 64bit machine helps.
I assume it's a 500GB hard disc but it reads as 459GB with just over 400GB free.
The EliteBook is a wide range of models supporting Windows 7, Windows 8.1 and now Windows 10. This however is the latest called Folio G1 and its focus is lightness and compactness, both of which it fulfils, there is a video on the HP site second link below that shows the unit off very nicely.
For me this is what Windows 10 should be about T O U C H. The added beauty here is the resolution of the screen.
Currently I can only find it from the HP site at $1399.
http://store.hp.com/us/en/hp-elitebook-folio-1020-g1-special-edition-notebook-pc-%28energy-star%29
http://www8.hp.com/us/en/ads/elite-products/elitebook-1020.html