Grind Wireless from Skullcandy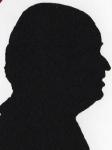 I am always worried when I see something that has a similar name to an already reviewed product, this I am told is different as you now have Bluetooth but even though my memory is short these still look familiar, why not Further Grind or even Grind 2.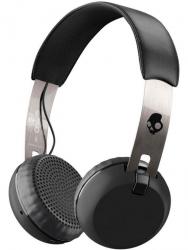 click image to enlarge
20cm from the bass of the earbuds to the top of the padded headband is the maximum size this includes the 3cm of adjustment possible on each sideband. The earpads are circular at 7.5cm and the weight of the unit is 180grams.
When the unit is at maximum size there is a wire that runs down either side just inside the frame but when at minimum size this juts out and could catch.
I was happy with them at their smallest size as this leaves a small space at the base of my ear for it to breathe. This however means that for a child these maybe too big.
There are three raised buttons on the surround of the right earpad these are +, O and – unlike some as these are raised slightly you can feel which one you are touching. With only three control buttons they are all multi-purpose.
While these are sold as 'no strings attached' there is a lead which means apart from them being able to be used wirelessly for up to 12 hours you can connect via the supplied cable for the times when you forgot to charge the internal battery or you are playing music from a non-Bluetooth device.
Finally at the base of the right headset the charging point a micro USB socket and there is a hidden LED that shows red when charging and blue when charged.
Opening the box is a work of art but on this occasion with a thin bladed knife I did so and it is now able to be closed again. Inside is a frame to hold the headphones and a small box that contains the 3.5mm to 3.5mm cable and the micro USB to USB cable. Also there are two folded sheets for Warranty and Instructions.
The instructions are ten illustrations below each are sixteen different language explanations of what that does and perhaps more importantly with each of the three buttons doing multiple jobs how long to push to enter what mode.
Pairing is easy and once paired to say your SmartPhone it remembers you so when you switch the headphones on repairing takes place quickly.
The files I normally use to test earbuds and headphones reside on an MP3 player so connect the supplied lead and play, these files include all Genres of music as well as speech from all range of voice and I was happy with the sound produced.
I think there is plenty of bass but those who go around in cars with speaker systems that make the road vibrate may not. The unit has 40mm drivers to give a good balanced sound.
My ears have problems with earbuds when worn for extended periods as indeed they do with over ear headphones so this sort of on ear offering suits me as my ears can still breathe it does mean there is more traffic noise when worn outside but to my mind not being able to hear a car horn is dangerous.
The Grind Wireless S5GBW is available from Amazon at the time of publication for £69.99 with free delivery.