Freecom mHDD Slim mobile hard drive

Review controls
The Freecom mHDD Slim is a portable hard disc to complement the latest high performance PC or Mac laptops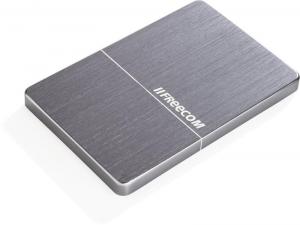 click image to enlarge
The Freecom mHDD Slim, which is available in either 1 or 2TB versions, is in a slim brushed aluminium case 75 x 115mm x 9mm thick with tiny rubber feet on its underside to prevent it sliding around the desk. Drawing its powr from the USB port to which it is connected, it weighs less than 160g complete with its two 30cm (1ft) cables one of which is USB 3.0 and the other USB type C -- the new universal USB connector. An LED on the edge of the drive near to the USB connector flashes when there is drive activity/
When supplied the drive is FAT32 formatted so that it can be used interchangeably between Windows and Mac computers. However, where the user wants to handle files larger than the 4GB supported by FAT32, software is provided on the drive to reformat it to HFS+ or NTFS for Macs and PCs respectively. While there is an amount of extra software provided, the majority is for PC. The only other software for both operating systems is the Freecom Green Button software.
Green Button can put the drive into suspend mode after a pre-set time so as to save energy and extend the lifetime of the drive itself. There is a note reminding users that there will be a slight delay while the drive spins-up before it can read or write as it comes out of its suspend mode.
The additional PC software is Nero Backup Essentials, Hard Drive Eraser and Hard Drive Info applications plus and older version of Adobe (Acrobat) Reader.
Backup Essentials enables one to carry out full backups or just to select just the folders required. Having selected the source, the target must be selected. This can be a hard disc, optical disk, a removable device, remotely across the network or elsewhere. The default is a whole system backup and there are options for backing up an entire drive or just the necessary folders and files. By the way, where a new folder was required it has to be created in File Explorer.
A useful feature was the ability to create a "sync job" to enable one to keep files up to date on a memory stick for use when on the move.
The Freecom Hard Drive eraser gives three different levels of security starting with the basic one which just writeszeroes over the entire disk. For greater of confidence that you data has gone for good is the two-pass GOST R 50739-95 procedure which writes zeroes and then a random value to the entire disk. This Belarus erasure scheme takes twice as long as the just the basic zeroes scheme and is more secure and, finally, there is the 7-pass US DOD 5220.22-M scheme which takes seven times longer than the basic wipe but provides a highly secure erasure. I cannot imagine that the average user will ever need more than the 2-pass solution.
The hard drive information app shows how much free space there is available on the hard drives attached to the machine together the amount of space taken up with music, videos, pictures, documents and others on each drive.
Providing connectivity via the normal and the new USB C connectors these external drives are a convenient way of backing up either a PC or a Mac. While the Freecom list prices for the two units are Model 56367 1TB is£76.90 and the 56368 2TB 56368 £109.90 the Amazon prices are lower.