DIY Kit Package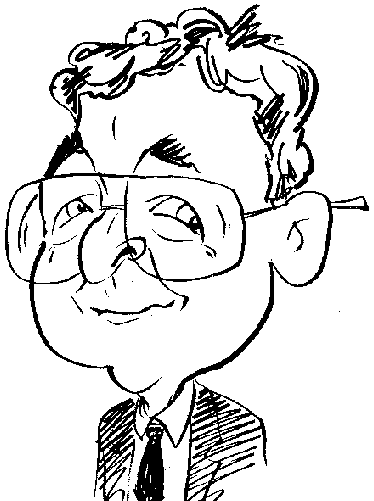 Review controls
I must admit that I passed through my DIY phase several years ago as other matters became more prominent in my life. Maybe, however, this period of getting my hands dirty might have been extended if I had access to a kit such as the subject of this next review.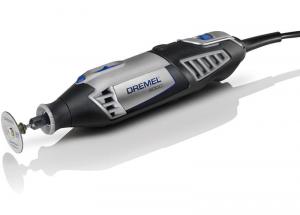 click image to enlarge
The Dremel 4000 is a collection of tools designed for the enthusiastic DIY person who wants to carve, grind, polish, cut, sand and carry out other miscellaneous tasks in and around the home. Forming the central unit of this tool kit is the Multi-Tool device that features the new EZ Twist Nose Cap.
Sporting a colour scheme of black, grey, blue and silver, the Multi-Tool is cylindrical in shape with dimensions of 230 x 41 x 43 mm (L x W x D) and a weight of 0.66 kg. Permanently attached to the rear of this Multi-Tool are the mains power lead and a standard 3-pin plug. This combination delivers a power input of 175W. While the length of this lead, at 190cm should be enough for providing power when carrying out the greater majority of tasks, there is always the option of adding an extension lead when the need arises.
Positioned on either side of this Multi-Tool, mounted at the front and rear, are ventilation openings. Arranged along the top of the Multi-Tool, running from front-to-rear, are controls for a shaft lock, power on/off button, brush cover and a variable speed dial allowing the user to adjust between speeds rated at 5 and 35 as different projects required different speed conditions. Completing the arrangement of features on the top of the Multi-Tool is a hook facility, initially recessed into the body of the unit, which can be used to hang this tool from an appropriate support when not in use.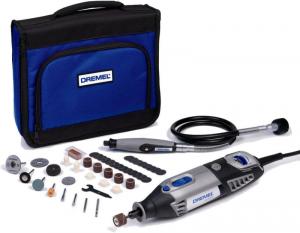 click image to enlarge
Along with its variable speed facility, the 4000 Multi-Tool allows for the quick and easy changing of various accessories. This particular feature is achieved with the use of the innovative EZ Twist Nose Cap. Using just finger pressure, you can remove the EZ Nose Cap. Adding downward pressure to the shaft lock button will result in the current attachment being easily removed and replaced with another element without any need to use a wrench. Incidentally a small wrench is included as part of the bundled accessories should you need one for other tasks.
As mentioned earlier, the Dremel 4000 is a collection of accessory tools that are all packed in a sturdy storage bag with a side pouch. Both the bag and side pouch feature a zip to help keep everything secure.
The main accessory forming part of this kit is a Flexshaft. This is a tool that acts as an extension lead that fits to the head of the Multi-Tool at one end while hold the required accessory required for a job at the other end. The 88cm slim-line length of the Flexshaft should make it easier to work on project aspects in locations where the Multi-Tool might prove awkward because of its size and bulk.
Also included in the package is a 45-piece accessory pack. Unlike the rest of the product, which was produced in Mexico, this accessory pack was assembled in Slovenia. These accessories come packed in a see-through plastic case. Picking through these accessories you will find items for line and circle cutting, shaping tools, drill bits, sanding pads and collets to mention just some.
A multi-lingual booklet forms part of the package. This document uses illustrations to explain the various functions rather than text instructions. The document would be more useful to an experienced user than a novice.
I feel that the Dremel 4000 is a product that is best suited to the type of offering you would buy as a present for a partner or family member who is keen on carrying out DIY projects. A quick check online revealed that Amazon.co.uk have this product is listed at £83.00.