Dolce Gusto Infinissima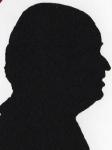 While I have a Nespresso machine I like the taste of Cappuccinos and Dolce Gusto machines do one as good as a decent Barista can make but of course there are two great advantages, you make them at Home and they are a quarter of coffee shop price.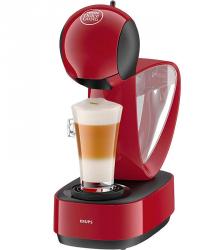 click image to enlarge
It is 37cm tall, 26cm from back to front and 12cm wide. A rather modernistic design it can hold up to two pints of water.
Unlike other machines this come fully assembled and once you have removed the plastic covering the shiny finish you just need to run some water through in case there are impurities from the production line.
Now insert the 80cm long hard wired mains lead into a power socket, refill the clear plastic container with water and press the on/off button this flashes red until the water reaches temperature and then turns solid green.
Insert a pod under the click top protective cover in the receptacle and push the black lever on top of the machine to the left and hot water goes through the pod and into the cup you have placed on the platform below.
That's it I can assure you that it takes less time to do than it did for me to explain it.
Nescafe do a huge range of pods look at their website below to see the total range some are available in the shops and other only available online and they often have special offers if you buy more boxes.
The pods come in boxes of sixteen pods if they are a type with milk then its eight coffee and eight milks. Unlike a lot of powered milks these have a great taste and my own favourite Cappuccino tastes superb.
While there is a large 'health and safety' booklet there is a small full colour 'Get Me Started' sixteen language booklet that in four sides covers the filling of water, cleaning and two sides on preparing your drink. Three further sides cover preparation of both hot and cold drinks and finally two sides on general cleaning and descaling which it tells you when it's due by the red/green on/off light going orange. This did not happen to me during my test period but full instructions including the use of the small funnel provided are in the booklet.
While there have been a range of Nespresso compatible pods for many years only in the last few months have I seen Dolce Gusto compatible pods in one supermarket group and they are – as befits the cut price nature of that group – cheaper than the branded pods but I have only seen two types of pods, yes one in Cappuccino and they are perfectly respectable.
My own Dolce Gusto machine is several years old and probably in need of a descale as it takes a lot longer to heat up but does not have the orange light to tell me when it is required I will probably descale it only when it stops working on the basis that it might not work at all once descaled and of course the warranty is long out.
This is a nice very easy to use machine and look at the second link to see the full range of drinks as they do tea and other drinks as well as coffee.
The Nescafe Dolce Gusto Infinissima from Krups is available from Amazon for £79.99 in Red, Black or White.