Dog Head Speaker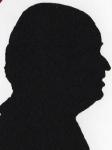 This is the size of a small dogs and is in fact exactly that with tweeters built into the dogs glasses and the main speakers the back of its head, it has a pair of ears a couple of LEDs at the start of the front of the neck and there this wireless speaker ends.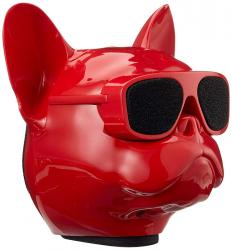 click image to enlarge
It is 9cm tall and 9cm wide and weighs 129grams.
While there is a small tripod screw in its base it sits on a table or desk and outputs whatever music you send it from your phone or other Bluetooth device.
Although it has no 3.5mm socket you can also output sounds using the special double ended micro USB charge lead using the Y end that has both a standard USB lead and a 3.5mm lead, this of course needs to be attached to the rear charge point at the back of the dog's neck.
This is produced by a company called jarre.com and it is called AeroBull Nano on checking their website I see they do no less than eight different Aero speakers. Apart from the Black model I was sent they also it in Red and White as well. The top of range model seems to be well into four figures.
There is a carabiner clip between its ears so it could dangle from your belt.
Linking via Bluetooth is just a matter of turning on and once found connection should be automatic next time you turn the AeroBull Nano on.
I also tested it with my MP3 player that I have with a range of music and speech files from the whole gamut of Genres and I was amazed how good the sound was from such small speakers.
No indication is given in the small instruction booklet of the speaker size and output but the main speaker in the back of the dogs head cannot be bigger than 5cm round and the pair of tweeters in the dogs eyes cannot be more than 2cm.
Checking the website finds there is a 10watt amplifier, made up of two 2.5watt speakers and a 5watt subwoofer (the main speaker in the back). Sound quality for such a small unit was excellent (not a word I use that often) of course this is for personal listening and not for filling a huge room.
The inbuilt battery lasts around 6.5 hours between charges which does not seem to vary when used in Bluetooth or 3.5mm input modes.
The eight sides of 11cm square card white on black have four illustrations and four language explanations per image. The documentation is very clear and easy to read certainly in English or French anyway.
What looks like a gimmick of having the model of a dogs head turns out to be a very good quality 2.1 speaker unit. The whole range of my test audio files including speech were clear and easy to follow even for someone like me with some age related hearing loss.
While it will be a talking point for the 'head' gimmick it should be remembered for the quality of sound it reproduces both Bluetooth and 3.5mm connections.
The AeroBull Nano is available from Amazon for £79 which includes free delivery.