Dell 22inch Panel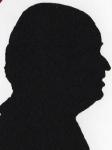 For me anyway the extra sound - quality and amount – that Dell can give you from a panel is a big plus if only from the point of desk space and the fact that you no longer need a pair of speakers on your limited amount of desk space.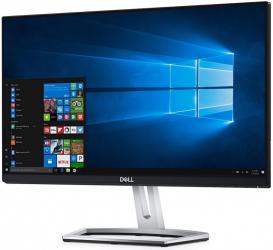 click image to enlarge
This 22 inch monitor from Dell measures 49x29x1.5cm and its stand lifts it 10cm from your desk. The notional diagonal imperial measurement is 21½ inches. The area above and to the sides has virtually no border with only 1cm border at the bottom.
It is of course a full HD offering (1920x1080) and allows you to connect via HDMI or VGA.
The stand is 'D' shaped at 24x15cm; this connects to the arm from the panel by a twist screw. The base of the stand has seven one centimetre round rubber feet to keep it clear of your desk.
The overhang of the back ends at the point where the stand emerges from the panel with the HDMI and VGA connections on one side and the headphone and audio in sockets the latter if you use VGA as well as the DC input on the other side.
While the units speakers are not large at 3x1.5cm they are down pointing from inside the case of the panel so this helps to amplify the sound to a level higher than with most panels. They are actually 3W output each but seem more.
The panel and stand are not heavy at just under 3kilos but it is well balanced. It has plenty of back tilt and a little forward tilt, there is no side to side movement but as it is light the whole panel is easy to move.
Like most modern panels it has 'Auto' adjustment and recognition of either HDMI or VGA input.
At the right under edge of the panel is an illuminated on/off button which shows when power is being received. To the left of this are four further pimple buttons to allow you to make changes to volume, brightness and contrast, there is plenty to spare of all three in normal lighting conditions.
While the screen is reflective it is not nearly as much as some and of course this does show finger marks but as it is not a touch screen there is no real reason to touch the screen.
The thin side bezels mean it could be one of several linked screens.
The unit ships with power lead and power adapter as well as an HDMI cable. Should you use a VGA cable you will also require a 3.5mm to 3.5mm audio cable to get sound, surely yet another reason to use HDMI as this carries the audio signal within the cable.
This is an 'A' class energy efficient panel.
The Dell 22inch S2218H panel is available direct from Dell for £130 or from Amazon for £119.99.