CyberLink 2017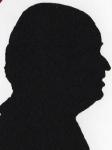 In the autumn after a round of press/trade shows all the software companies rush to get their 2017 versions of software releases and updates on the market. Here I am looking at two such items from CyberLink who like Nero now reside in Germany.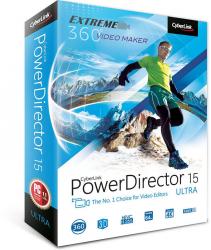 click image to enlarge
Unlike a lot of other software companies CyberLink do not try to make all their versions have the same numeral at the end of the product name. So the two getting the once over here are PowerDirector 15 and PhotoDirector 8.
CyberLink PowerDirector 15 Ultra
Anyone into making videos will love the obvious new feature 360 degree video maker. It allows you to make 360 degree videos and even to use 360 degree video footage in standard video output.
It now supports end to end video editing, so create your 360 degree project and then use all the tools you know along with new offerings to edit and design the output the way you want.
The title options mean you can show what you want in the way you want to.
Another new feature is Mask Designer which enables you to apply selective transparency to both text and images.
Also new in this version is Video Blending which enables you to merge different video clips on different timelines.
The new TrueVelocity 6 rendering engine is stated to be the fastest rendering engine.
One of the most impressive things I saw in a demonstration is colour enhancements where hue and viberancy are matched even when sources differ.
The requirements for PowerDirector 15 are Windows 7 upwards. Screen resolution of 1024x768 upwards and 16bit colour or better. It will work with 2GB of memory but the recommendation is 8GB or above. You will need around 7GB or hard disc space for a complete install.
CyberLink PowerDirector 15 is available from Amazon for £73.99.
CyberLink PhotoDirector 8 Ultra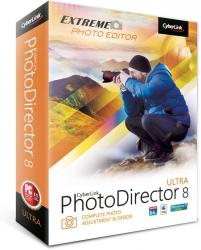 click image to enlarge
This is a complete Photo Adjustment & Design Package, in this package the accent is on 'Unique'. Express Layer Templates, Perfect Group Shots, Multi-Exposure Images and Sweeping Panoramas are just some of the unique claims.
Perhaps for the sake of any relationship the Perfect Portrait is most important, that chipped or discoloured tooth, the shiny skin and perhaps most important the dazzling eyes that can be added to an otherwise realistic image.
It can even shape a body when none is there to be shaped.
Camera RAW support allows the best possible image to start with so that the 'sows ear can become the silk purse'.
Of course this goes against reality but if you want to sleep in the same bed as your partner learn how to make fantasy a reality. This is the package to make him or her look like they wish to look and not what the mirror shows.
It is possible to capture a still from a video so that moment you missed with the camera can be saved if it was captured on video.
Both this and the Video package have some things in common and both give you 25GB of Cloud storage. In both cases the box copy is cheaper to purchase than the download and you get a digital copy free with the box purchase as well, strange but true, that's reality.
CyberLink PhotoDirector 8 Ultra is available from Amazon for £71.99.
rel="nofollow">http://www.cyberlink.com/index_en_GB.html?r=1
More details on all CyberLink products are available from the Cyberlink web site where you can also download limited time free trials.