Coffee, Hot or Cold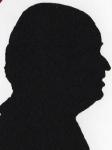 Two items to make or store your coffee – or other hot or cold drink – for hours. First a device to make the coffee called a CoffeeGator, second something to store the made drink in a rather decent flask called a CorkCicle Canteen to carry on your journey.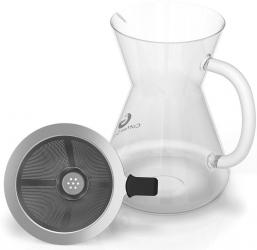 click image to enlarge
CoffeeGator
Like many good ideas this is very simple, a funnel/sieve with a very clever fine mesh and a jug that you put the funnel in. All you now need is some good ground coffee – maybe less easy to find – and a kettle to heat the water you pour over the coffee.
Firstly do not try this with a normal mesh strainer – however fine – as it will not work this is totally different to a tea strainer mentioned for those of us old enough to remember times before tea bags.
The secret is in the conical strainer, the outside has an arrangement of tiny holes but the inside is a very tight mesh like a skin that only lets the water through no coffee grains get through they are all left in the strainer.
It is 10.5cm across at the neck with a 1cm lip and 6.5cm deep. You place an amount of ground coffee in the strainer and pour water over it. The water will pass through the mesh picking up the coffee flavour but none of the grounds.
Dependant on how strong you like your coffee and how many cups you are making depends on the amount of coffee you use. The instructions suggest 20 grams as a starting point my tests found less was to my taste and this also passed quicker through the mesh.
The other part is a clear glass jug marked in medium cup sizes one to four, I found for a half pint mug around one and half markings filled the cup and this probably was close to two fills of near boiling water into the funnel/sieve.
The glass jug was smart but being glass could break, the brains are the funnel/sieve.
The CoffeeGator is available from Amazon for £29.97 with free delivery.
CorkCicle Canteen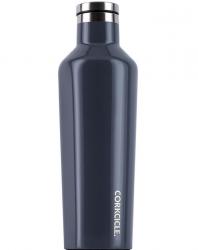 click image to enlarge
My Canteen was dark blue with chrome screw cap and surround the base has a black rubber ring to keep it standing firm.
It is 25cm tall almost round and 7.5cm wide at the neck – this is said to wide enough for you to insert ice cubes – but either side is flattened off so it will not role around when on its side.
The claims are quite large that items placed in the Canteen will stay cool for 25 hours or hot for up to 12 hours. The rider of 'performance may vary based on external conditions' is added via an '*'.
The contents are 'triple insulated' so in my less than scientific tests kept a drink hot all day and a cold drink made one afternoon was still cold the next afternoon.
It's a nice smart flask that is stated to hold 16 ounces which in my tests was just under two half pint mugs.
The screw thread turns just about one and half rotations to fully close the lid.
The CorkCocle Canteen is available from the link below for £20; I can see eight different colours on the link below.