BullGuard Research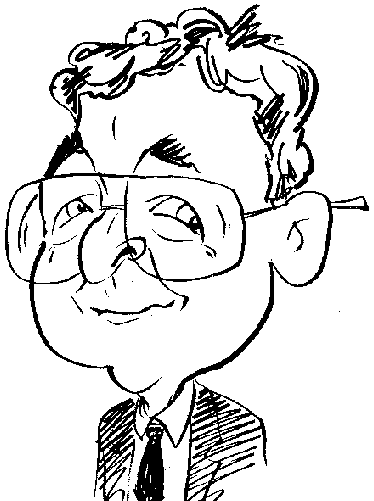 Review controls
While many users have an anti-virus contract in place, they sometimes fail to protect their data in other ways.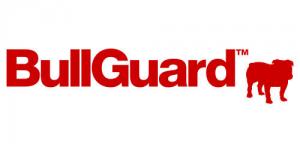 According to BullGuard, a fast growing anti-malware and mobile security brand, millions of us are putting our personal and financial data at risk. One reason for this worrying claim is the habit that many of us have of auto-storing passwords on our smartphones. According to Cam Le, Chief Marketing Officer at BullGuard, "We save login and payment card details often without a second thought but with this comes the risk of what could happen should our mobiles or tablets fall into the wrong hands. Of course this is not the only reason for this worrying situation as the BullGuard research indicates.
Are you one of the nearly two thirds of UK adults who have hard-wired their brains so that they rely on "auto-fill" to complete their login process for some of, if not all, the websites they visit on a regular basis? Or maybe you are one of the third who login automatically and store their personal bank card details when shopping on eBay and Amazon? Even if you did not actually take part in the survey, you should not regard this is a Monopoly "Get out of jail" card and believe that you are free of any blame as you could be guilty in other ways and at fault for allowing certain parties access to your data.
For instance, the BullGuard survey has revealed that over half of users will probably have failed to set up a pass code for their phone or tablet containing sensitive data. Even a temporary loss of such an ill-protected device could be enough to allow unauthorised others to have full access to the content stored on such a device and deprive you of what is rightly yours. BullGuard believes that 58% of British users stay signed into their email account permanently with the result that third-parties could gain access to private and sensitive information if the host device is left unattended for a short period.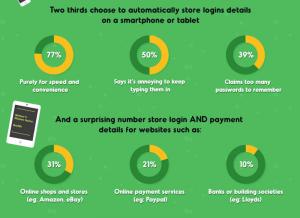 click image to enlarge
Many of us rely on passwords as the means to "lock and bolt" our personal data. I know I fall into this classification. But the BullGuard research shows that a typical British user relies on approximately six different passwords while many struggle to remember them or for which purpose they are to be used. As a result they write them down on a Post-It note or something similar. In some cases users regularly request a new password to replace a forgotten one. Many of those taking part in the BullGuard survey claim that the reason they had trouble in remembering password was due to the conditions enforced by some websites that insisted on the use of an unique collection of unusual collection of characters, numbers and upper and lowercase letters.
As a result of the information gleaned from the survey, BullGuard, using its experience in mobile security, has produced a couple of top ten lists for recommended sites for storing bank card details and for storing login details including those pesky passwords that are meant to safeguard our data but also put a strain on our memory.
Top Ten sites for storing bank card details
| Position | Site | Percentage |
| --- | --- | --- |
| 1 | Amazon | 64.13% |
| 2 | PayPal | 32.90% |
| 3 | eBay | 21.19% |
| 4 | Tesco | 10.78% |
| 5 | Argos | 9.85% |
| 6 | Marks & Spencer | 9.48% |
| 7 | Apple | 7.62% |
| 8 | Rakuten | 6.88% |
| 9 | Asda | 6.69% |
| 10 | NetFlix | 6.69% |
Top Ten sites for storing login details including passwords
| Position | Site | Percentage |
| --- | --- | --- |
| 1 | Facebook | 60.12% |
| 2 | Email provider (Various) | 35.28% |
| 3 | Amazon | 33.97% |
| 4 | Twitter | 26.69% |
| 5 | eBay | 20.25% |
| 6 | Instagram | 13.88% |
| 7 | PayPal | 13.57% |
| 8 | Google+ | 11.39% |
| 9 | Pinterest | 9.13% |
| 10 | Linked-In | 9.05% |
I will leave the final few words to Cam Le who states that "In the light of these results we'd advise people to more selective with the websites that have login details pre-stored."