Braun Multi Groomer MG5090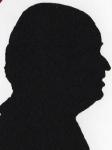 Having recently told you about beards, head hair and other hair on other parts of the body from separate devices it seems only right to end this round up of recent Braun devices with what they call the Multi Groomer designed to shave, style and trim.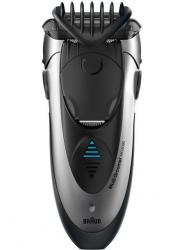 click image to enlarge
This is designed to be used both wet and dry and can even be used in the shower should you wish.
It is 13.5cm long, 5.5cm wide and up to 3.5cm deep. It weights 177grams.
It is battery operated by two rechargeable batteries that when fully charged can give you 30 minutes of constant power. There is also a five minute quick charge that should give those who always forget to recharge enough power for a single treatment.
Apart from the shaving head there are two different trimming heads supplied that clip over the shaver head to do their thing to the desired length, there is also a flip over styling blade fitted to the back of the unit.
Also in the box is a 13 language User Guide with five of the pages in English. A cleaning brush, a proprietary mains lead and a small stand.
The on/off button requires a slight downward pressure to turn the unit on, it is rubberised like the lower 10cm of the back so it has good contact with the palm of the hand even when wet.
It is very dark grey – near black – in colour apart from a silver grey thick band that runs around the black trimming head on the back of the unit.
A sign of the times is that one of the plastic attachment combs is described as a '3-day beard comb' the other detachable one is just called a 'Precision Attachment' by use of one or other of these parts you can trim your beard to between .5-6cm.
Once these are removed you are left with the extra wide shaver head -4.5cm - that is foil covered. This can give a clean shave quickly and efficiently when used either wet or dry.
Back to the adjustable combs they allow you to choose one of four beard lengths from .5-6cm.
I liked the balance of the unit in the hand and this is most important when used in the shower or bath with wet hands the grip needs to be firm on the shaver when your hands are at their most slippery. The rubber back means that even a light hold becomes a firm one and I can say I never once dropped this unit during my tests.
The rear styler is double ended and can flip round which gives styling ends of 1.5cm and 3cm meaning that for those fine areas you do not need to twist to avoid areas you do not want to touch.
So back to the initial Braun statement on the front of the box Shave, Style and Trim, I can say it works well for all the three claims.
The Braun Multi Groomer MG5090 is available, at the time of publication, from Amazon for £47.49 with free delivery.