Braun Beard Trimmer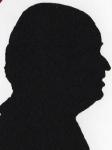 In my youth I had a beard which came to a nasty end when the chef I was working for took a dislike to it and removed one side of it with the fish scissors, such things today would end up in a court case. So while I often go a day or two without shaving going several weeks in order to test this was something my neighbours had not seen before.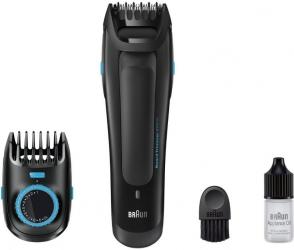 click image to enlarge
Certainly after not having a real beard for nearly 50 years it felt strange and what was a dark mid brown offering which used to bear the name 'goatee' now is a grey mess which would take far longer to become something worthy of the name beard but it did allow me to test the ability to set the length or should I say shortness of cut/trim.
It is 16.5cm long, 4.5cm wide at the head and a maximum 4,2cm just below the head, it weighs 177grams.
It is a matt black or possibly a very dark grey black with turquoise blue highlights, the dial trimmer removal points and outside of on/off button. I am no fashion guru but to me it looks good.
A full recharge is said to take 8 hours but you then have a constant power for 50 minutes of beard trimming or other such tasks. You know that it is charged when the green light on the unit is extinguished. You can only recharge it with the lead provided so do not lose it. As is the fashion with shaving items it has a two pin plug that fits such outlets in bathrooms or it you do your beard trimming elsewhere then a two pin adapter will be required. The lead is just over two metres long for those occasions when you forget to charge it.
Even when the unit has no charge you continue to trim or sculpt your beard by using the lead provided but then you need to be within a couple of metres of a power point.
There is a small 80 page manual with eight of those in English, also in the box are a cleaning brush and a small fine point bottle of oil for lubrication.
While my beard growth was very straggly I was able to make use of the twenty point dial to even things out a little and after a couple of try's things even started to look respectable.
Looking at the dial it is marked in sections 1 to 10 but there is also a stop between each number meaning from 1 to 10mm in .5mm adjustments which would be ideal for some of the patterns I have seen cut into far more impressive beards than mine could ever be.
It's strange that growing hair on my chin is still easy while on top of my head is impossible, mind you other orifices also sprout growth just not on the top of my head.
This is a nice comfortable feeling piece of kit and in the hand it feels balanced.