Big Heavy Padlock by Noke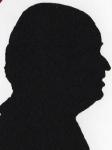 This is a padlock with no keyhole or number combination. According to instructions there are four ways to open it, but in case you forget the pattern you select then when you register you answer three different memorable questions for another way.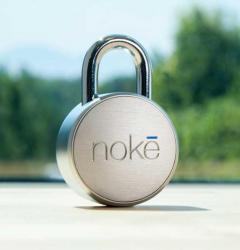 click image to enlarge
For those with bicycles then they also do a U-Lock version.
Perhaps the easiest way to open it – even without your phone being available – is a combination of short and long pushes down on the top of the locking part called the shackle, you decide how many and what combination but once you get beyond say eight the security is quite good.
Inside the Noke is a 2032 battery which is stated to last for a year and is easily changeable when the Noke is unlocked. You are also warned by the Noke App on your iOS, Android or Windows phone long before the battery needs changing.
You can share your ability to open the Noke with others so great for perhaps a back gate to allow friends into your garden even when you are yet to return home. Being a journalist I always look for the potential pitfalls and this may need to be run past your insurance company to see how it might affect a claim.
One thing I notice with a conventional padlock on my back gate is that it does tend to freeze in cold weather the Noke is stated to work at down to -10 degrees centigrade and at the other end up to 65 degrees centigrade.
Once you have setup your Noke even if you forget your key combination and lose your phone those security questions you answered during setup can be used to get your Noke open.
Should the time ever happen that your Noke battery dies then there is a dust cover fitted onto the base to allow an external battery source to be applied but you will still require one of the four methods of opening the lock all the external battery is doing is to apply the power required to open to lock when the correct signal is received.
For those with poor memory then there is a fob available that works in much the same way as most modern car doors do.
For me the range of methods to open the Noke means that losing a 'key' or fob is not a disaster as other methods are available. I know as a child more than once I lost standard keys which meant my parents were not happy. Once a combination of long and short presses is learnt it tends to be learnt so not having a phone or fob with you is not a disaster. Now you just need to decide what to secure with a Noke.
There are other security features that I will not go into in this piece.
The Noke is available from the first link below for £59.99 with free delivery.
http://www.firebox.com/product/7037/Noke-The-Worlds-First-Bluetooth-Padlock