BenQ 27inch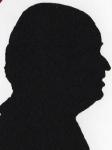 For those who have an interest in photography then a specialised 'RGB' unit such as this offering from BenQ could well solve the problem of getting the colour correct, this unit guarantees 99% correct Adobe RGB colour space.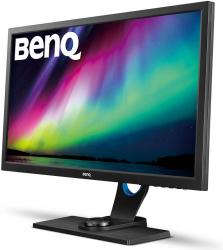 click image to enlarge
While this unit can operate as a standard panel for all the normal home and office tasks the extra top and side shields when fitted give that exact colour that the photographer craves.
Having recently unhooked a 4K offering it's nice to be let down slightly more gently with a QHD 2560x1440 offering as a stop before returning to my own HD offering 1920x1080.
It is 64x37x2cm without the shield in place. The stand is 31x20cm linking to the 45cm tall arm at the rear of the screen to give 23cm of height adjustment in landscape mode. It also rotates 90 degrees so it can be used in portrait mode. The units total weight with stand and hood is just over nine kilos. The viewable screen is 59.5x34cm which gives the notional diagonal imperial measurement of a tad under 27inches.
The connections at the rear are the kettle style mains lead entering back right and the connectors to the PC back left of HDMI, or Digital along with USB (upstream) and headphone socket.
The right side has two USB3 ports and an SD card socket.
The screen has back tilt of around 20 degrees and just over 3 degrees of forward tilt. Unusually there is also side to side movement of up to 35 degrees.
On the underside towards the right are six buttons and far right an LED that shows when power is being received.
As I normally find with recent panels my tests to try and improve on the 'Auto' setting fail, as with most panels the only failing is with inadequate volume levels and even cranking up to maximum will never equal that of even a small external USB speaker, in fact I can count on the thumbs of my hands the units that have had good sound, but of course this is about the image quality and not the sound quality.
One feature is a Black & White mode for photographs which unless you are expecting it really looks strange.
Returning to colour this unit has 10-bit colour which is said to give over 1,000,000 colours. You can also perform hardware calibration without affecting the output from the PC graphics.
While some may think that 2160x1440 is not that much more than 1920x1080, if you think of it in pixels per inch (PPI) its 109 v 81.6.
In fact you can switch between RGB, sRGB and Black & White using the supplied remote control and with the right photos even the RGB modes really look different.
Power consumption is 36.7w and as low as .3w in power saving mode. This unit is 6.0 energy star.
This is a specialised photographers panel and while it will do all the normal office and home tasks including watching videos it comes into its own when used to work with photographs.
The BenQ sw2700pt is available from Amazon for £594.80 including free delivery.
Product details are available on the Benq web site.