AnySharp Pro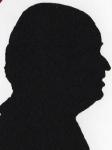 Watching an expect demonstrator can persuade a lot of people to buy things. I saw one sharpening with this product all kinds of knifes with edges - even serrated examples – then for effect - I am sure - an old axe was produced and this too was sharpened and then a soft tomato was sliced up thinly with it, everyone was suitable hooked.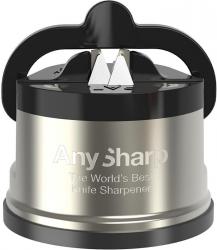 click image to enlarge
What I have yet to do is carry out some of the other things he demonstrated on other garden tools perhaps the most strange a builders cement trowel that he also then proceeded to cut a ripe tomato into wafer thin slices. Why a ripe tomato well try it yourself I suggest you do not wear anything like a decent shirt or dress as tomato stains are not easy to remove. Even with a normal tomato cutting thin slices is not easy unless of course you are talking about the orange under ripe offerings often seen in supermarkets.
It is circular at 6cm across and when the guard is out of the way a maximum of 5.5cm tall. It comes in a range of colours to suit your kitchen – or dare I say – workshop.
It has a suction base activated by lowering the guard so that it firmly attached to a solid surface before you can use it. This is important as if not firmly anchored either the device or the knife can slip.
You only sharpen the knife – or whatever you are sharpening – one way by drawing it towards you this is clearly shown on the top of the unit. If you use a sawing motion to sharpen all you will do is blunt the knife, it works differently to a steel used by professionals.
Any professional will probably still say their steel is best but that is a precision tool and you have to know how to use it to get the best from your knife with a steel, with the AnySharp Pro anyone following the instructions can get a good sharp finish.
Most of us want to be able to get a smooth cut on our meat or even our tomatoes and this can certain give you that. So onto a more normal task for a serrated knife like bread, fresh bread is a nightmare for mere mortals to slice with a crisp crust and soft inner you do not want to cut with pressure and of course a sharp knife glides through anything.
The other thing a blunt knife is good for is sending you to A&E as you are far less likely to cut yourself – if careful – with a sharp knife. A smooth gliding motion is all that should be required be it tomatoes, bread or meat.
I doubt most of us want an edge on a cement trowel and while an axe with a sharp blade is desirable not really a job you would think of to use a knife sharpener for.
The AnySharp Knife Sharpener Pro is available from Amazon for £16.59.